2005: #76 – We Need To Talk About Kevin (Lionel Shriver)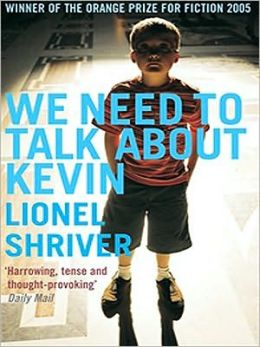 We Need to Talk About Kevin
by
Lionel Shriver
Published by
Coverpoint
on 2003
Genres:
literary fiction
Pages:
400


The gripping international bestseller about motherhood gone awry.
Eva never really wanted to be a mother and certainly not the mother of the unlovable boy who murdered seven of his fellow high school students, a cafeteria worker, and a much-adored teacher who tried to befriend him, all two days before his sixteenth birthday. Now, two years later, it is time for her to come to terms with marriage, career, family, parenthood, and Kevin's horrific rampage in a series of startlingly direct correspondences with her estranged husband, Franklin. Uneasy with the sacrifices and social demotion of motherhood from the start, Eva fears that her alarming dislike for her own son may be responsible for driving him so nihilistically off the rails.
Book #76 was We Need To Talk About Kevin, by Lionel Shriver.
I really wasn't expecting much when I picked up this book for $4 at the book fair. Man, was I wrong. This book was extremely captivating. At first, I was concerned that the narrator's language was way too flowery and extravagant, but once you got to know her a little, you realized that it fit, exactly. And despite these letters being written after Thursday, information is handed out in tantalizing little nuggets, and you don't know the full story until nearly the very end. I'm still internally debating the believability of the child's behavior, but nothing should surprise me when it comes to people.
I would recommend this book to anyone… the publisher's description doesn't do it credit.
Final Totals for 2005!!!
Book count: 76
Pages in book: 400
Page count: 27,759
15,000 page goal reached 6/14/05!
50 book goal reached 7/19/05!