2006: #32 – Survivor in Death (J.D. Robb)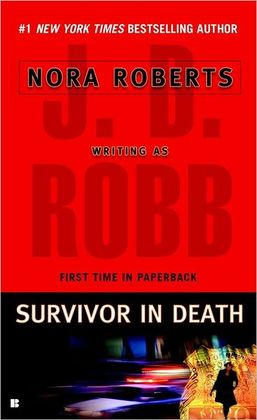 Survivor In Death
by
J.D. Robb
Series:
In Death #20
Published by
Berkley Books
on September 1, 2005
Genres:
romance
,
romantic suspense
Pages:
360


Also by this author:
Naked in Death
,
Immortal in Death
Also in this series:
Naked in Death
,
Immortal in Death
The members of the Swisher family were murdered in their beds with brutal, military precision. The state-of-the-art security was breached, and the killers used night vision equipment to find their way through the cozy, middle-class house. Clearly, Dallas is dealing with pros. It seems the only mistake they made was to overlook the nine-year-old girl cowering in the darkened kitchen.

Now Nixie Swisher is an orphan - and the sole eyewitness to a seemingly inexplicable crime. Kids are not Dallas's strong suit. But Nixie needs a safe place to stay, and Dallas needs to solve this case. With her partner, Peabody, back on the job - and her husband, Roarke, providing the kind of help that only he can give - Lieutenant Eve Dallas is running after shadows, and dead-set on finding out who's behind them.
Book #32 was Survivor in Death, the 20th book in J.D. Robb's In Death series.
Insert everything I've said about the other books in this series here.
Book count: 32
Pages in book: 384
Page count: 13,005
Words in book: 109,962
Word count:3,681,130
1,000,000 words surpassed — 2/2/06
2,000,000 words surpassed — 2/14/06
10,000 pages surpassed — 3/10/06
3,000,000 words surpassed — 3/16/06