2006: #31 – The Snake, the Crocodile and the Dog (Elizabeth Peters)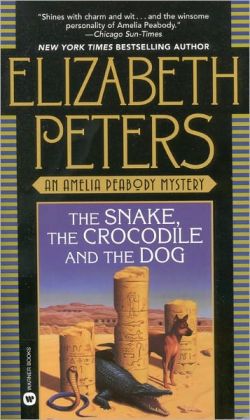 The Snake, the Crocodile, and the Dog
by
Elizabeth Peters
Series:
Amelia Peabody #07
Published by
Grand Central Publishing
on July 30, 2013
Genres:
hf - victorian
,
historical fiction
,
historical mystery
Pages:
512


Also by this author:
Seeing a Large Cat
,
The Mummy Case
Also in this series:
Seeing a Large Cat
,
The Mummy Case
With Nefret, now a ward of Amelia and Emerson, and Ramses at home pursuing their studies, the couple returns to Amarna in 1898 for a dig that promises to be just like old times. The trip turns out to be more like old times than they plan, however, when they become the targets of a Master Criminal's evil plot. Emerson is kidnapped, and Amelia rescues him to discover that he has lost his memory. Tantalizingly close to her most important discovery yet, a tomb that may have been Nefertiti's, Amelia needs to turn her attention to regaining her husband's love.
Book #31 was The Snake, the Crocodile and the Dog, the 7th book in Elizabeth Peters' Amelia Peabody series.
I enjoy these books because they combine two of my favorite things — a mystery and a book with a historical bent! Another one of those series I started in the middle and am now trying to play catch up.
Book count: 31
Pages in book: 448
Page count: 12,621
Words in book: 134,379
Word count:3,571,168
1,000,000 words surpassed — 2/2/06
2,000,000 words surpassed — 2/14/06
10,000 pages surpassed — 3/10/06
3,000,000 words surpassed — 3/16/06