2006: #25 – Witness in Death (J.D. Robb)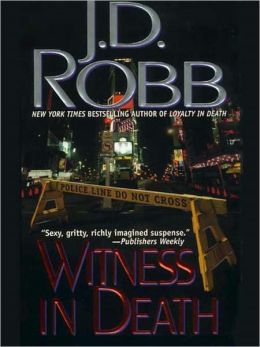 Witness in Death
by
J.D. Robb
Series:
In Death #10
Published by
Berkley Books
on March 6, 2000
Genres:
romance
,
romantic suspense
Pages:
338


Also by this author:
Naked in Death
,
Immortal in Death
Also in this series:
Naked in Death
,
Immortal in Death
It is 2059, and New York City homicide lieutenant Eve Dallas's husband, Roarke, is producing a revival of Agatha Christie's thriller Witness for the Prosecution. On opening night, when the villainous character Leonard Vole gets his just deserts, someone substitutes a kitchen knife for the prop knife, and the actor, Richard Draco, is stabbed through the heart. Trouble is, in time-tested British mystery fashion, everyone in the cast had good reason to despise Richard, a misogynist who seduced and discarded beautiful young women, including one whom he knew to be his daughter. It's up to Eve to solve the case, an emotionally difficult task as she is no stranger to incest herself: she was beaten and raped by her father before she managed to escape him. As Eve fights to keep her head above water, she tries to bond at a deeper level with Roarke, so that her future will heal the pain of her past.
Book #25 was Witness in Death, the 10th book in J.D. Robb's In Death series.
These seemed like good travel/sitting-around-my-mother's-house books. I'm not sure how Robb manages to keep things fresh after 15 books.
Book count: 25
Pages in book: 368
Page count: 10,314
Words in book: 101,723
Word count: 2,917,748