2008: #107 – The Charlemagne Pursuit (Steve Berry)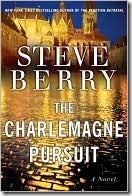 Book #107 was The Charlemagne Pursuit, the fourth book in Steve Berry's Cotton Malone series.  The back of the book reads:
As a child, former Justice Department agent Cotton Malone was told his father died in a submarine disaster in the North Atlantic, but now he wants the full story and asks his ex-boss, Stephanie Nelle, to secure the military files. What he learns stuns him: His father's sub was a secret nuclear vessel lost on a highly classified mission beneath the ice shelves of Antarctica.
But Malone isn't the only one after the truth.
Twin sisters Dorothea Lindauer and Christl Falk are fighting for the fortune their mother has promised to whichever of them discovers what really became of their father–who died on the same submarine that Malone's father captained.
The sisters know something Malone doesn't: Inspired by strange clues discovered in Charlemagne's tomb, the Nazis explored Antarctica before the Americans, as long ago as 1938. Now Malone discovers that cryptic journals penned in "the language of heaven," inscrutable conundrums posed by an ancient historian, and the ill-fated voyage of his father are all tied to a revelation of immense consequence for humankind.
In an effort to ensure that this explosive information never rises to the surface, Langford Ramsey, an ambitious navy admiral, has begun a brutal game of treachery, blackmail, and assassination. As Malone embarks on a dangerous quest with the sisters–one that leads them from an ancient German cathedral to a snowy French citadel to the unforgiving ice of Antarctica–he will finally confront the shocking truth of his father's death and the distinct possibility of his own.
This was the first Steve Berry book I've read, but I wasn't too lost. There are some references to the earlier books in the series, but nothing that's crucial to the story.  The one thing that is missing here is any sort of extensive character development.  There are a lot of people intertwined in this story, but you never get a real thorough sense of any of them, even Cotton.
There's two different things going on here, even though they are related.  First, there is Cotton's search for the truth about his father's death, referred to in the book as "The Charlemagne Pursuit".  In addition to this, there is a military/political cover-up that is spearheaded by an admiral who will do whatever he needs to close to the President.  I enjoyed both parts of the pursuit, but I think I liked Stephanie and Edwin's chase of the killer more, especially their adventures on the Biltmore estate (probably because I just visited it last spring). The parts about Charlemagne were interesting to me, because it's a time of history I'm not real familiar with.  For one, I never would have associated Charlemagne with Germany.  I've heard the theories about there being some sort of "first civilization", but I never knew the Nazis went to Antarctica (even if that's not why they went there).
Overall, I liked this, despite some slowness in the middle.  The last couple of parts are written in a way that keep you turning the page to see what will happen next.
Page count: 509 | Approximate word count: 143,172
2007: Dead Certain (Mariah Stewart)
2006: Chase (Dean Koontz)