2021: #20 – The Governess Game (Tessa Dare)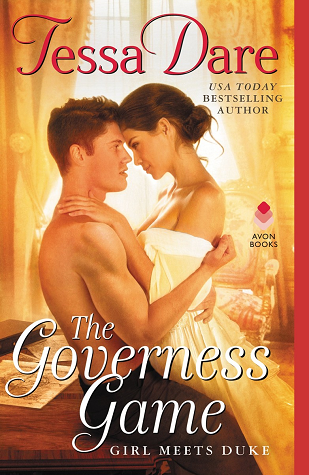 The Governess Game
by
Tessa Dare
Series:
Girl Meets Duke #02
Published by
Avon
on August 28, 2018
Genres:
regency romance
Pages:
373


Also by this author:
The Duchess Deal
,
The Wallflower Wager
Also in this series:
The Duchess Deal
,
The Wallflower Wager
He's been a bad, bad rake—and it takes a governess to teach him a lesson

The accidental governess.

After her livelihood slips through her fingers, Alexandra Mountbatten takes on an impossible post: transforming a pair of wild orphans into proper young ladies. However, the girls don't need discipline. They need a loving home. Try telling that to their guardian, Chase Reynaud: duke's heir in the streets and devil in the sheets. The ladies of London have tried—and failed—to make him settle down. Somehow, Alexandra must reach his heart... without risking her own.

The infamous rake.

Like any self-respecting libertine, Chase lives by one rule: no attachments. When a stubborn little governess tries to reform him, he decides to give her an education—in pleasure. That should prove he can't be tamed. But Alexandra is more than he bargained for: clever, perceptive, passionate. She refuses to see him as a lost cause. Soon the walls around Chase's heart are crumbling... and he's in danger of falling, hard.
I actually liked this book slightly more than The Duchess Deal, perhaps because Alex is just a more interesting female lead. She has an unusual profession (clocksetter), despite that she isn't actually doing that work during the timespan of the book, and an unusual background. The 2 young girls were also a nice addition to the story, and they reminded me of the older 2 sisters from the Despicable Me movies. I can't say there's anything super interesting or unusual about Chase, but he does what the male lead is supposed to do! I've already read the 3rd book in this series, so I guess I like Tessa Dare.
Other reviews:
"Chase and Alexandra frequently had me in stitches with their quick bantering and their denial of the attraction between them." — Harlequin Junkie
"I gave the book 4.5 stars on Goodreads. The only reason I didn't give it 5 stars is because the pacing felt a little off to me, particularly in the latter half of the novel." — Always Bring Books
"I didn't enjoy the romance as much as the previous. Chase's reasons for holding back seemed rather contrived, as I never fully connected with him on that front." — Book Binge