2020: #29 – Magic for Liars (Sarah Gailey)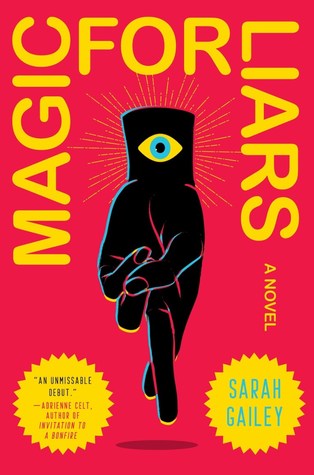 Magic for Liars
by
Sarah Gailey
Published by
Tor Books
on June 4, 2019
Genres:
fantasy
,
mystery
,
private investigator
Pages:
336


Ivy Gamble has never wanted to be magic. She is perfectly happy with her life life—she has an almost-sustainable career as a private investigator, and an empty apartment, and a slight drinking problem. It's a great life and she doesn't wish she was like her estranged sister, the magically gifted professor Tabitha.

But when Ivy is hired to investigate the gruesome murder of a faculty member at Tabitha's private academy, the stalwart detective starts to lose herself in the case, the life she could have had, and the answer to the mystery that seems just out of her reach.
Ivy Gamble is a private investigator. Normally she spends a lot of time following around cheating spouses, so when a well-dressed woman appears in her office and offers her a chance to work on a murder case, it's tough to refuse. But there's another wrinkle — the possible murder happened at a school for magically-inclined children where Ivy's very magical twin sister Tabatha is a teacher. Ivy isn't magical at all, something which has come between the two sisters over the years.
Unable to pass up the challenge of the job and what it could do for her business, Ivy finds herself ensconced at the exclusive school, not really sharing with others that she doesn't have magic and feeling very imposter-syndromy about the whole thing.
I don't want to share much about the mystery itself, because it's very twisty-turny and did not go in the direction I expected it to, which I really appreciated. Ivy is an interesting character. She is far from perfect, very insecure about her background and lack of magic, and in danger of getting sucked a little too deep into the mystery. I also liked the dynamic between Ivy and her sister and their struggle to heal their relationship.
As far as I can tell, this is a stand-alone novel, but I would be up to reading about Ivy solving more magical mysteries.
I read this for the PopSugar Reading Challenge this year — this book fulfilled the "book by a trans or nonbinary author" prompt.
Other reviews:
"Gailey shows teenagers as they are, not as adults want them to be or teens wish they could be. It's been a very long time since I've read adult fiction that gets teenagers as well as Magic for Liars." — Punk-Ass Book Jockey
"There were aspects the story that were predictable and I didn't find the reveal shocking in any way. However, I did appreciate the sentiment behind everything that did happen. It's nice to see a little different of a story line." — Where the Reader Grows
"In case it wasn't evident, I really enjoyed this book and definitely recommend it! There were some melodramatic parts that came off a bit like a soap-opera, Ivy is a bit mopey at times and is a bit of a drunkard, and the magic can be a bit silly, but I didn't mind those things too much and to me it lent my theory that this story was a bit of a satirical on magic school fantasy books." — Coffee, Prose, & Pretty Clothes