2008: #84 – From the Mixed-Up Files of Mrs. Basil E. Frankweiler (E.L. Konigsburg)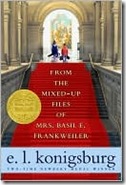 Book #84 was From the Mixed-Up Files of Mrs. Basil E. Frankweiler by E.L. Konigsburg. The back of the book reads:
When suburban Claudia Kincaid decides to run away, she knows she doesn't just want to run from somewhere she wants to run to somewhere–to a place that is comfortable, beautiful, and preferably elegant. She chooses the Metropolitan Museum of Art in New York City. Knowing that her younger brother, Jamie, has money and thus can help her with the serious cash flow problem she invites him along.

Once settled into the museum, Claudia and Jamie, find themselves caught up in the mystery of an angel statue that the museum purchased at an auction for a bargain price of $250. The statue is possibly an early work of the Renaissance master Michelangelo, and therefore worth millions. Is it? Or isn't it? Claudia is determined to find out. This quest leads Claudia to Mrs. Basil E. Frankweiler, the remarkable old woman who sold the statue and to some equally remarkable discoveries about herself.
I won't be really reviewing these books I read for the Daring Book Challenge, because I feel funny reviewing books that are older than I am (this was published in 1967). But I will share what I thought. I thought this was a cute story, and I don't know how I missed this one when I was young… it seems like it would have been just my style! And, except for a few details (such as how much things cost and the fact that Claudia wears a petticoat), it doesn't feel like it's outdated. I thought a couple of parts were particularly funny, like when Claudia and Jamie find an unopened candy bar on the ground, and Jamie wants to eat it. Claudia says "You better not touch it. It's probably poisoned or filled with marijuana, so you'll eat it and become either dead or a dope addict." How funny!
Page count: 162 | Word count: 32,640
2007: In This Mountain (Jan Karon)
2006: N is for Noose (Sue Grafton)