2020: #28 – With the Fire on High (Elizabeth Acevedo)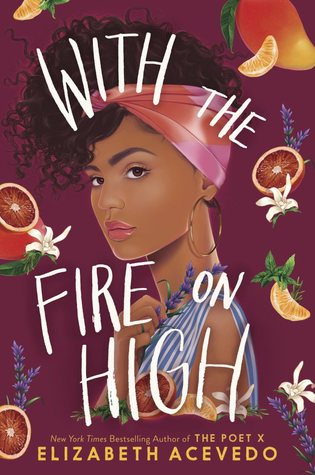 With the Fire on High
by
Elizabeth Acevedo
Published by
Quill Tree Books
on May 7, 2019
Genres:
y/a contemporary
Pages:
392


From the New York Times bestselling author of the National Book Award longlist title The Poet X comes a dazzling novel in prose about a girl with talent, pride, and a drive to feed the soul that keeps her fire burning bright.

Ever since she got pregnant freshman year, Emoni Santiago's life has been about making the tough decisions—doing what has to be done for her daughter and her abuela. The one place she can let all that go is in the kitchen, where she adds a little something magical to everything she cooks, turning her food into straight-up goodness.

Even though she dreams of working as a chef after she graduates, Emoni knows that it's not worth her time to pursue the impossible. Yet despite the rules she thinks she has to play by, once Emoni starts cooking, her only choice is to let her talent break free.
When I fly through a book like I flew through this one, I have no choice but to give it five stars.
Emoni is starting her senior year of high school, but one thing makes her different than her classmates — Emoni had a baby when she was a freshman. While all her classmates and friends are looking ahead to what college they are going to and what path they want to take, Emoni is wondering if college is a part of her future at all. When a culinary elective is reintroduced to her school, she decides that this may be her chance to see if her cooking is all its cracked up to be.
Having a baby isn't Emoni's only challenge. She is an afro-latinx girl living in Philadelphia with her grandmother. Her father is more attached to Puerto Rico than he is to her. Her baby's father and his family aren't the easiest to get along with. She and her grandmother struggle with money. She often longs to do things a teen without all these responsibilities would do, but to her credit, she has a good head on her shoulders. She takes a few wrong turns along the way, but I think she ends up where she needs to be in the end.
I enjoyed reading Emoni's journey. I like Acevedo's writing, and the chapters are really short so it's easy to get sucked into a "just one more chapter" cycle. There are a few things that I wish were different. Often the baby seems just thrown in as an afterthought, like "oh yeah, I have to account for where the kid is here". I also felt like some of the middle parts, like the fundraising work she does with her class, could have been a little more fleshed out and then maybe some of the trip stuff cut out. But overall, this was a really enjoyable read, and I will definitely look out for other books by Elizabeth Acevedo.
I read this for the PopSugar Reading Challenge this year — this book fulfilled the "a bildungsroman" prompt.
Other reviews:
"A book about a teenage mom/wannabe chef that is simultaneously heart-warming and heart-wrenching, in the absolute best way. Fair warning: it will make you want to eat Puerto Rican food and travel to Spain." — She's Full of Lit
"With the Fire on High gives us an Afro Puerto Rican teen who gets to be a foodie and a chef, who gets to travel, who gets to be lucky. It shows a hopeful scenario for everything life can, should be: not without struggles but with enough support, structure and nurture that anything can be accomplished." — The Book Smugglers
"Emoni is facing many of the same issues all teens are facing—college, grades, love interests, family, etc., and any time a reader is able to make common ground with a character who maybe doesn't share their background or circumstances is a bridge created." — Reading for Sanity