2019: #27 – Two Can Keep a Secret (Karen McManus)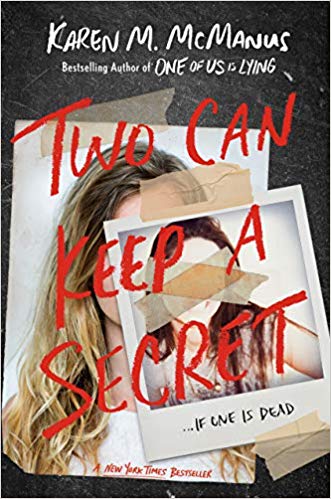 Two Can Keep a Secret
by
Karen M. McManus
Published by
Delacorte Press
on January 8, 2019
Genres:
y/a mystery/thriller
Pages:
329


Also by this author:
One of Us Is Lying
,
One of Us Is Next
Echo Ridge is small-town America. Ellery's never been there, but she's heard all about it. Her aunt went missing there at age seventeen. And only five years ago, a homecoming queen put the town on the map when she was killed. Now Ellery has to move there to live with a grandmother she barely knows.

The town is picture-perfect, but it's hiding secrets. And before school even begins for Ellery, someone's declared open season on homecoming, promising to make it as dangerous as it was five years ago. Then, almost as if to prove it, another girl goes missing.

Ellery knows all about secrets. Her mother has them; her grandmother does too. And the longer she's in Echo Ridge, the clearer it becomes that everyone there is hiding something. The thing is, secrets are dangerous--and most people aren't good at keeping them. Which is why in Echo Ridge, it's safest to keep your secrets to yourself.
My book club read Karen McManus's first book, One of Us is Lying, last year and liked it enough that we decided to follow it up with her second book this year!
Ellery and her twin brother Ezra end up living with their grandmother in their mother's Vermont hometown after she ends up in rehab. The 5-year anniversary of the murder of a teenage girl is coming up, which also coincides with the date their mother's twin sister disappeared, back when they were in high school. Their immersion into small-town life seems to be going fine, until people start acting odd and another teenage girl disappears.
Two Can Keep a Secret was good, but not *quite* as good as her first. That one kept me guessing until the end, but I figured out who the killer was in this book fairly early — like half way through. I still enjoyed the ride to the conclusion, though! Also, the setting left a little to be desired… This small town could have been anywhere, there was nothing very "Vermont-y" about it, which is something I expect when a story is set in Vermont.
I still give this a thumbs up, and I'll definitely be reading her next novel!
Other reviews:
"A fabulous follow up to a great debut, 'Two Can Keep A Secret' is a tantalizing mystery with fun characters and many satisfying twists and turns. Fans of thrillers should check it out." — The Library Ladies
"Two Can Keep a Secret wasn't overly thrilling (such as my favourite thriller of all time, Small Spaces), but it still kept me intrigued and wanting more." — Your Words, My Ink
"I think one of the best unexpected surprises was the way Ellery began to bond with her grandmother. She clearly didn't expect it, and maybe her grandma didn't either, but it was this sweet surprise, and I loved it." — The Story Sanctuary