2018: #23 – One of Us is Lying (Karen M. McManus)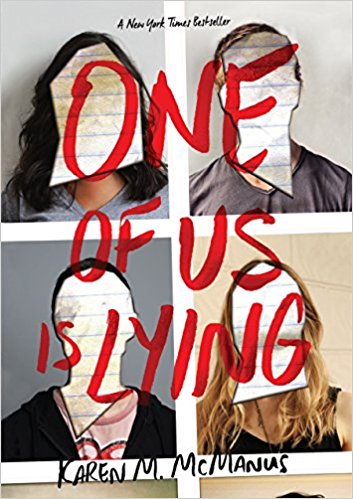 One of Us Is Lying
by
Karen M. McManus
Series:
One of Us is Lying #01
Published by
Delacorte Press
on May 30, 2017
Genres:
y/a mystery/thriller
Pages:
361


Also by this author:
Two Can Keep a Secret
,
One of Us Is Next
Also in this series:
One of Us Is Next
The Breakfast Club meets Pretty Little Liars, One of Us Is Lying is the story of what happens when five strangers walk into detention and only four walk out alive. Everyone is a suspect, and everyone has something to hide.

Pay close attention and you might solve this.

On Monday afternoon, five students at Bayview High walk into detention. Bronwyn, the brain, is Yale-bound and never breaks a rule. Addy, the beauty, is the picture-perfect homecoming princess. Nate, the criminal, is already on probation for dealing. Cooper, the athlete, is the all-star baseball pitcher. And Simon, the outcast, is the creator of Bayview High's notorious gossip app.

Only, Simon never makes it out of that classroom. Before the end of detention, Simon's dead. And according to investigators, his death wasn't an accident. On Monday, he died. But on Tuesday, he'd planned to post juicy reveals about all four of his high-profile classmates, which makes all four of them suspects in his murder. Or are they the perfect patsies for a killer who's still on the loose?

Everyone has secrets, right? What really matters is how far you would go to protect them."
I thought this was really great, which should be evident by how quickly I read it (3 days). It starts out with five students serving detention one evening, but then one of them dies in a way that can't quite be accidental.
The characters start out rooted in their stereotypes — the smart one, the pretty one, the bad boy, the jock, and the outcast. But with the exception of Simon, who dies, there is good growth for each character. No one stays stagnant in this story, and everyone comes out of it changed for the better. The book gives you the story from each main character's point of view, and the character voices are different enough that I really didn't have to look back to remember who was talking.
The mystery itself was quite good, with a lot of twists and turns. Everyone is a suspect, and the author does a good job of keeping you guessing until the end. I don't read a ton of YA, but I look forward to the next book by this author!
Other reviews:
"Unlikely friendships, surprising romances, and quite a few surprises make One of Us is Lying a winning mystery for even the most jaded fans of the genre." – Miss Print
"One of Us is Lying earns a B from me because the book was better than I expected. I never got bored, I couldn't outright guess whodunnit, and I loved the development of the characters. It was the perfect book to read in the middle of a reading slump." – The Librarian who doesn't say shhh!
"The thing about this book is that it's a mixture of genres. If you're looking for an intense and chilling mystery, it probably isn't for you. But, if you're looking for an easy-to-read and interesting book with contrasting characters, romance, secrets and a murder, then there's a good chance you'll like this." – Blogging for Dopamine