2009: #113 – Sleeping with the Fishes (MaryJanice Davidson)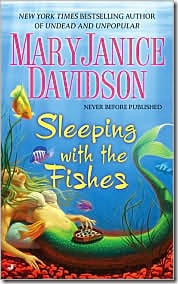 Book #113 was Sleeping with the Fishes, the first book in the Fred the Mermaid series by MaryJanice Davidson.  The back of the book reads:
Fred is not your ordinary mermaid. She's not blonde. She's not buxom. And she's definitely not perky. In fact, Fred can be downright cranky. And it doesn't help matters that her hair is blue.

While volunteering at the New England Aquarium, Fred learns that there are weird levels of toxins in the local seawater. A gorgeous marine biologist wants her help investigating. So does her merperson ruler, the High Prince of the Black Sea. You'd think it would be easy for a mermaid to get to the bottom of things. Think again.
This was a quick fun read, but it suffers from one glaring problem – Fred is basically Betsy (of the Undead series) with fins and without the love for shoes. If you've read any of that series, it's really difficult to read this without Betsy's voice in your head. Despite the voice problems, Fred is a unique character, a half human and half mermaid who works in the only natural choice for a hybrid mermaid – at an aquarium. When she has to figure out who is polluting Boston Harbor (and therefore, oceans everywhere), she ends up with not one, but two love interests.  It's their interactions that will keep you reading.
Other reviews:
Bitten by Books » Sleeping With The Fishes by MaryJanice Davidson
ReadingAdventures: Sleeping with the Fishes by Mary Janice Davidson
Page count: 304 | Word count: 39,957
2007: True Evil (Greg Iles)
Used in these Challenges: Random Reading Challenge; Countdown Challenge 2010;