2009: #118 – The Maze Runner (James Dashner)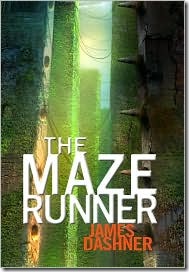 Book #118 was The Maze Runner, the first book in the Maze Runner Trilogy by James Dashner.  The back of the book reads:
When Thomas wakes up in the lift, the only thing he can remember is his first name. His memory is blank. But he's not alone. When the lift's doors open, Thomas finds himself surrounded by kids who welcome him to the Glade—a large, open expanse surrounded by stone walls.

Just like Thomas, the Gladers don't know why or how they got to the Glade. All they know is that every morning the stone doors to the maze that surrounds them have opened. Every night they've closed tight. And every 30 days a new boy has been delivered in the lift.

Thomas was expected. But the next day, a girl is sent up—the first girl to ever arrive in the Glade. And more surprising yet is the message she delivers.

Thomas might be more important than he could ever guess. If only he could unlock the dark secrets buried within his mind.
I'm sure that this novel has found itself compared to The Hunger Games, as they are both young adult dystopian novels.  The Hunger Games is a hard title to surpass, but in some ways, The Maze Runner has done just that. From the start of the story, when Thomas wakes up in a strange elevator knowing only his name, you know nothing more than what the characters know.  And the characters don't know much, which makes everything a mystery.  Where are they?  Why is there a maze?  Who keeps sending them supplies?  Will they *really* die if they stay in the maze at night?  And what is the deal with the girl who suddenly shows up the next day? I found this story to be much more complex than The Hunger Games, even if it isn't suspenseful in quite the same way.  It certainly kept me reading, and I blew through the second half of the book like someone was going to take it away from me.  The ending is incredible, because just when you think you know what is going on, you find out that you're completely wrong.  Can't wait for the next one.
This book was a review copy.
Other reviews:
Book Review: The Maze Runner by James Dashner | BOOKS AND MOVIES
Devourer of Books » The Maze Runner – Book Review
THE MAZE RUNNER by James Dashner – REVIEW « Karin's Book Nook
Review: The Maze Runner by James Dashner
At Home With Books: The Maze Runner by James Dashner – Review
Page count: 384 | Approximate word count: 96,000
2007: Rapture in Death (J.D. Robb)
Used in these Challenges: Countdown Challenge 2010;