2016: Wicked Appetite (Janet Evanovich)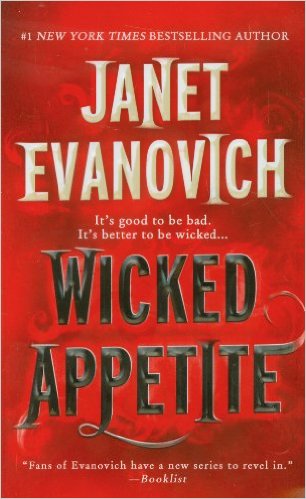 Wicked Appetite
by
Janet Evanovich
Series:
Lizzy & Diesel #01
Published by
St. Martin's
Genres:
cozy mystery
,
mystery
Pages:
333


Also by this author:
One for the Money
,
Two for the Dough
,
Three to Get Deadly
,
Four to Score
,
High Five
Also in this series:
Wicked Business
,
Wicked Charms
Lizzy Tucker has inherited a historic house in Marblehead, Massachusetts, taken a new job as pastry chef for Dazzle's Bakery in Salem, and set her sights on a comfortable future. The comfortable future and any hope for normalcy evaporates when dark haired, dark hearted Gerewulf Grimoire and his nemesis, a blond beach bum named Diesel, enter Dazzle's and change Lizzy's life forever.

Grimoire has set his sights on the Stones of SALIGIA, rumored to have found their way to Salem. These seven stones, each representing one of the seven deadly sins, can bestow frightening powers upon its owner. Powers that would be dangerous in Grimoire's hands.

Diesel is a man with a mission: To stop Grimoire at all costs. In order to do so he'll need to convince the baker she alone has the ability to keep Grimoire from the stones. Once Lizzy and Diesel become a team, Diesel will have to guard Lizzy's body...day and night.

The Seven Deadly Sins pretty much cover everything that's wicked. Diesel thinks they also pretty much cover everything that's fun. And Lizzy thinks Diesel and The Sins cover everything her mother warned her about.
I've put off reading this series despite my love for Janet Evanovich mostly because of the supernatural twist. Sometimes I'm just not in the mood for a combo of supernatural and absurd. I already knew it was a spinoff of the Stephanie Plum series, so the writing style and tone were not a surprise. Plus, Janet Evanovich's books all kinda read the same.
To my surprise, I enjoyed this! Basically, there are 3 types of people — Normal, Unmentionable, and Questionable. Normal people are, well, normal. Unmentionable people have some sort of magical power, though they may not realize it themselves. And Questionable people seem to have some sort of power, but it's not defined. And what are these powers used for? To find and control/take care of some magic stones. Each of the 7 stones induces the characteristics of one of the deadly sins in whomever has it. The more stones a person has, the more powerful they are.
Diesel, who is introduced in the Stephanie Plum books, is an Unmentionable. Turns out, cupcake baker Lizzy is too, and he enlists her help in tracking down the stones, in particular the stone representing gluttony. True to Evanovich/Plum form, there are a host of zany characters they encounter along the way. And a monkey.
As I said, I enjoyed it, but it's not her strongest work. On the good side you find the slow-burning relationship between Lizzy and Diesel, Lizzy's supporting cast, and Lizzy's cat. On the bad side, you find the monkey. I really, really, really, could do without the monkey. He's just straight-up absurdity. He serves no purpose. There's plenty of funny in this book without the damned monkey.
Other reviews:
"Take out the monkey, the immature jokes (seriously my Mage-teens are more mature than these 20-somethings), and breathe some life into Diesel and Lizzie and you'd have an amazing book." — Dairenna VonRavenstone's Blog
"Honestly, I would recommend this book to anyone who needs a good laugh." — writerbrittanyb
"I really enjoyed this book is was a nice, fun, quirky read and I can't wait to read more of the series!" — Reading Away the Day!