2009: #66 – I Smile Back (Amy Koppelman)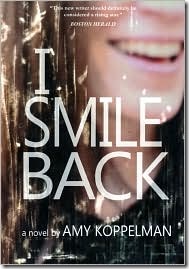 Book #66 was I Smile Back by Amy Koppelman.  The back of the book reads:
In the follow-up to her acclaimed debut, A Mouthful of Air, which drew comparisons from critics to The Bell Jar and The Awakening, Amy Koppelman delivers an unrestrained statement on the modern suburban woman.

Laney Brooks acts out. Married with kids, she takes the drugs she wants, sleeps with the men she wants, and disappears when she wants. Lurking beneath Laney's composed surface is the impulse to follow in the footsteps of her father, to leave and topple her family's balance in the process.
Laney Brooks is not a character most people are going to like, and even fewer will respect.  When we meet Laney, she is spending her days drinking in her closet, cheating on her husband, and snorting coke before she goes to pick up her kids.  The book follows Laney through her bottom and into rehab, and then back into her life again as she struggles to deal not only with her substance abuse, but with the reasons why, which she thinks goes back to when her father left the family.  Frankly, Laney is an incredibly narcissistic woman, who sees every situation only how it affects her.  Even when her son starts to show signs of compulsive behavior, all she can think about is how it will make her look.  I didn't like Laney, and I didn't care about the choices she makes in the end, but I can respect the book as an interesting piece of writing.
Page count: 194 | Approximate word count: 40,000
2008: Homeport (Nora Roberts)
2007: The Double Bind (Chris Bohjalian)
2006: Plain Truth (Jodi Picoult)
2005: Bridge of Birds (Barry Hughart)
Used in these Challenges: 100+ Reading Challenge 2009; Support Your Local Library Challenge 2009;