2009: Sunday Salon – The Snowcapalypse Edition
So if you haven't heard, some of us got slammed by snow this weekend…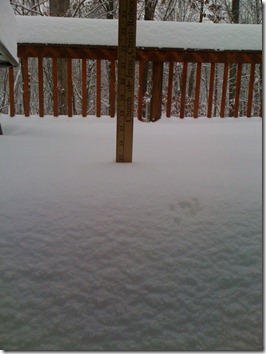 Yes, that is 15 inches of snow.  It started at home around 1:30 or 2pm, which lead to a rather hairy drive home (I left work at 2) that I would be ecstatic to never repeat. We haven't had this much snow the entire year for the past few years.  I'd forgotten what snowbanks look like.  But, all is well, and our cars can get out (they finally plowed our road this morning). Though mine still has a snow mohawk.
I don't have much else to say, cuz I'm saving all the good stuff for my end of year post in a couple of weeks.  But, I did want to mention a couple of books I abandoned recently.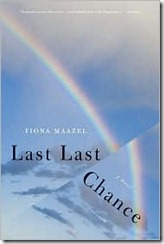 The first abandoned book this month was Last Last Chance by Fiona Maazel. I just couldn't take the writing style — it was all over the place.  And that was just in the first chapter.  There just wasn't enough that was believable. That doesn't mean that you wouldn't like it… It just didn't click for me.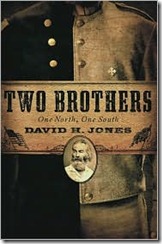 The second abandoned book was Two Brothers: One North, One South by David H. Jones.  I was a little sad that this one didn't click with me, because I'm sure that it's quite good as far as the Civil War goes.  The problem I had with it was the really stilted dialogue.  I think the author was trying to be historically accurate, but I think you can achieve that and still have some life in your characters.
I just started reading Shogun by James Clavell.  It's definitely a chunkster, at 1210 pages and very small print, so I'll probably be reading it through the end of the year.
Other than a couple more book reviews and some challenge posts (yes, more challenges!), I probably won't be posting much until the end of the year.  We're going to Baltimore for Christmas, and I'll be bringing my computer, so who knows.  Scott is going to be helping his dad with some remodeling while we're there, so I may have some time to kill after the Christmas weekend is over. 
Happy Holidays to everyone! May Santa bring you a lot of books! 🙂