2010: #11 – Kitty Takes a Holiday (Carrie Vaughn)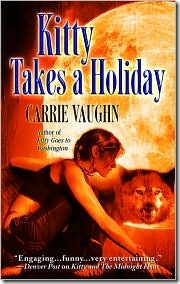 Book #11 was Kitty Takes a Holiday, the third book in Carrie Vaughn's Kitty Norville series.  The back of the book reads:
After getting caught turning wolf on national television, Kitty retreats to a mountain cabin to recover and write her memoirs. But this is Kitty, so trouble is never far behind, and instead of Walden Pond, she gets Evil Dead. When werewolf hunter Cormac shows up with an injured Ben O'Farrell, Kitty's lawyer, slung over his shoulder, and a wolf-like creature with glowing red eyes starts sniffing around the cabin, Kitty wonders if any of them will get out of these woods alive…
Another great entry in the Kitty Norville series! Kitty is trying to lay low in this book, dealing with her sudden outing and wondering if she should even continue her radio show.  Then Cormac shows up, and her personal life gets… messy. I liked the direction this book took us in, and I felt like we got a little more up close and personal with Kitty.  There is one big surprise here that could have a major effect on later story lines; it's good to shake things up! I'm looking forward to reading further in the series.
Other reviews:
Carrie Vaughn: Kitty Takes A Holiday – Book Review
Kitty Takes a Holiday by Carrie Vaughn | Amber Stults
Booking Mama: Review: Kitty Takes a Holiday
48. Kitty Takes a Holiday by Carrie Vaughn
Darque Reviews: Kitty Takes A Holiday by Carrie Vaughn
Page count: 336 | Approximate word count: 84,000
2009: The Brass Verdict (Michael Connelly)
2008: The Bone Garden (Tess Gerritsen)
2007: Prince of Fire (Daniel Silva)
2006: L is for Lawless (Sue Grafton)
2005: The Wide Window (Lemony Snicket)
Used in these Challenges: Random Reading Challenge; Countdown Challenge 2010; 2010 100+ Reading Challenge; E-book Reading Challenge; Pages Read Challenge Season 2;