2010: #19 – London Bridges (James Patterson)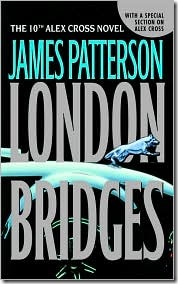 Book #19 was London Bridges, the tenth book in James Patterson's Alex Cross series. The back of the book reads:
Two of the greatest villains James Patterson has ever created in one book! Minutes after soldiers evacuate a Nevada town, a bomb completely destroys it. On vacation, FBI agent Alex Cross gets the call: the blast was perpetrated by the Wolf. A supercriminal and Cross's deadliest nemesis, the Wolf threatens to obliterate major cities, including London, Paris, and New York. Then evidence reveals the involvement of a ruthless assassin known as the Weasel. Could these two dark geniuses be working together? Now with just four days to prevent an unimaginable cataclysm, Cross is catapulted into an international chase of astonishing danger – and toward the explosive truth about the Wolf's identity, a revelation that Cross may not survive.
Ah, the era when Patterson wrote all of his own books. This book is *so* many steps above the dreck he publishes now, yet still not the greatest. I think my problem with lies in the complexity of the evil plot.  I didn't really buy it in this context, perhaps because the book takes itself seriously.  You could have this type of plot in an Ian Fleming or Clive Cussler novel, because it is delivered with a wink and a nod.  Here, it's meant as a "this could really happen" scenario. There's just too many pieces and plots for everything to be controlled by one man (or woman). That being said, I was still entertained, and it was nice to visit with Alex Cross again. I may avoid most of Patterson's newer books, but I expect I won't be able to avoid finishing this series.
Other reviews:
REVIEW: London Bridges « reading comes from writing
Page count: 416 | Word count: 68,987
2009: Undead and Unemployed (MaryJanice Davidson)
2008: Caught Stealing (Charlie Huston)
2007: Die Trying (Lee Child)
2006: Skinny Dip (Carl Hiaasen)
2005: The Haunting of Hill House (Shirley Jackson)
Used in these Challenges: The Four Month Challenge; Random Reading Challenge; Countdown Challenge 2010; 2010 100+ Reading Challenge; 2010 Reading From My Shelves Project; Pages Read Challenge Season 2; Thriller & Suspense Challenge 2010; What's in a Name? 3 Challenge;