2020: #15 – Cress (Marissa Meyer)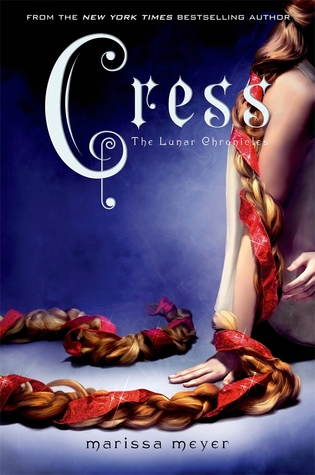 Cress
by
Marissa Meyer
Published by
Feiwel & Friends
on February 4, 2014
Genres:
y/a science fiction/dystopian
Pages:
552


Also by this author:
Cinder
,
Scarlet
,
Winter
Cinder and Captain Thorne are fugitives on the run, now with Scarlet and Wolf in tow. Together, they're plotting to overthrow Queen Levana and her army.

Their best hope lies with Cress, a girl imprisoned on a satellite since childhood who's only ever had her netscreens as company. All that screen time has made Cress an excellent hacker. Unfortunately, she's just received orders from Levana to track down Cinder and her handsome accomplice.

When a daring rescue of Cress goes awry, the group is separated. Cress finally has her freedom, but it comes at a higher price. Meanwhile, Queen Levana will let nothing prevent her marriage to Emperor Kai. Cress, Scarlet, and Cinder may not have signed up to save the world, but they may be the only hope the world has.
Blogger note: Book #14 was a reread of The Mysterious Affair at Styles, by Agatha Christie.
Cress is the 3rd book in Meyer's fun Lunar Chronicles series. The primary character in each book is very loosely based on a fairy tale character. First we had Cinder (Cinderella), then Scarlet (Little Red Riding Hood) and now Cress, who represents Rapunzel.
Like Rapunzel, Cress is trapped in her tower, except in this case the tower is a satellite in the moon's orbit. She is a Lunar shell, which means she doesn't have the mind manipulation powers of the other Lunar people. Everyone believes she was killed as a baby, but instead she was raised and trained to be a secret hacker for the queen. But she has been secretly helping Cinder, the rightful queen of Luna, and in exchange for her help they are coming to rescue her.
Unfortunately, things go terribly wrong during the rescue attempt, leaving our group split into several pieces. The rest of the story is very much a "get all the pieces in the right place for the story climax" novel, as things are prepared for the final book in the series, with a little romance mixed in. We also learn a few things about some of the characters along the way.
It's been a while since I read the 2nd book in the series, so it took me a few chapters to get back into the rhythm of the story. But this is a solid YA series.
I read this for the PopSugar Reading Challenge this year — this book fulfilled the "book with a robot, cyborg, or AI character" prompt.
Other reviews:
"There's an aspect to these books that I feel I need to expound upon because I have been so pleased with it. I am loving these strong female protagonists!  The emphasis for all three women (Cinder, Scarlet, and Cress) is not on their beauty, but on their intelligence and what they can do.  How refreshing for today's girls!" — Reading for Sanity
"In short, I adored this book, I can't speak about it coherently, I need to start meditating so I can stay calm when I talk about books, AND PLS GO READ THIS IF YOU HAVEN'T YET. GO CHILD GO. THE LUNAR FANDOM AWAITS YOU." — Bookchanted
"Considering the fact I favorably compared Marissa Meyer's plotting to J.K. Rowling's, I think you can guess where my final rating for this one is going. Cress really did have it all. The characters, the dialogue, the plot–perfection. 5/5 cupcakes." — Book. Blog. Bake