2010: #83 – Baltimore Blues (Laura Lippman)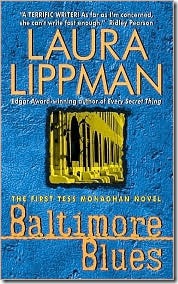 Book #83 was Baltimore Blues, the first book in Laura Lippman's Tess Monaghan series.  The back of the book reads:
Until her paper, the BALTIMORE STAR, crashed and burned, Tess Monaghan was a damn good reporter who knew her hometown intimately–from historic Fort McHenry to the crumbling projects of Cherry Hill. Now gainfully unemployed at twenty-nine, she's willing to take any freelance job to pay the rent–including a bit of unorthodox snooping for her rowing buddy, Darryl "Rock" Paxton.

In a city where someone is murdered almost everyday, attorney Michael Abramowitz's death should be just another statistic. But the slain lawyer's notoriety–and his noontime trysts with Rock's fiancée–make the case front page news…and points to Rock as the likely murderer. But trying to prove her friend's innocence could prove costly to Tess–and add her name to that infamous ever-growing list.
This is a series I'm glad I started.  Tess is a little bit lost in her life, seemingly content to get by working here and there and rowing every morning. She finally finds her purpose again when her rowing friend, Rock, asks her to follow his fiancée. This is one of those mysteries that starts out looking like it will go in one direction, but ends up somewhere completely different.  We also find out that Lippman isn't an author who's afraid to make some hard decisions. The setting adds a little bit of extra charm for me personally, because my husband is from the Baltimore area and we go there often. I listened to it on audio, and narrator Deborah Hazlett did a great job of illustrating the native Baltimore accent without being cartoonish about it. I can't believe this is my first Laura Lippman book! She writes right up my alley.
Other reviews:
S. Krishna's Books: Book Review: Baltimore Blues – Laura Lippman
Beth Fish Reads: Review: Baltimore Blues by Laura Lippman
Audiobook length: 9 hrs 55 min | Word count: 91,483
2009: Suzanna's Surrender (Nora Roberts)
2008: The Curious Incident of the Dog in the Night-Time (Mark Haddon)
2007: The Legacy (Steven Frey)
2006: The Eighth Commandment (Lawrence Sanders)
Used in these Challenges: 2010 100+ Reading Challenge; 2010 Reading From My Shelves Project; 1st in a Series Challenge; Audiobook Challenge;