2010: #93 – Morrigan's Cross (Nora Roberts)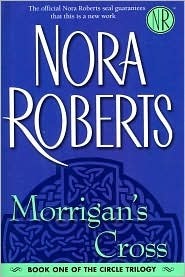 Book #93 was Morrigan's Cross, the first book in the Circle Trilogy by Nora Roberts.  The back of the book reads:
As a storm rages, the tale of a powerful vampire's lust for destruction-and of the circle of six charged by the goddess Morrigan to stop her-begins. One of the chosen is a medieval sorcerer whose quest will take him through time-and into the arms of a woman courageous enough to link her destiny to his own.
I'm not the greatest fan of Nora Roberts' romances with a supernatural twist, but I thought I'd give this a try.  It was just okay.  I felt like the set-up was really weird.  Everyone just falls together and shows up where they are supposed to be, and making the reason be "because the goddess said so" is just a little too convenient. Overall, I guess I was a little bored with it. No one character stands out as anything other than a stereotype. I might read the other two books, just to complete the story, but I won't rush to do it.
Other reviews:
REVIEW: Morrigan's Cross by Nora Roberts | Dear Author
read_warbler: Morrigan's Cross
Page count: 352 | Approximate word count: 88,000
2009: Evil at Heart (Chelsea Cain)
2008: Third Degree (Greg Iles)
2007: The Woods (Harlan Coben)
2006: Why Girls Are Weird (Pamela Ribon)
Used in these Challenges: 2010 100+ Reading Challenge; 2010 Reading From My Shelves Project; 1st in a Series Challenge; Pages Read Challenge Season 2;