2011: #20 – Merciless (Mary Burton)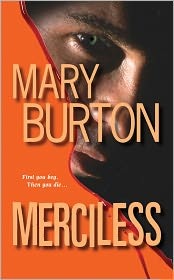 Book #20 was Merciless by Mary Burton, the follow-up to her previous book, Senseless. The back of the book reads:
Each skeleton is flawless – gleaming white and perfectly preserved, a testament to his skill. Every scrap of flesh has been removed to reveal the glistening bone beneath. And the collection is growing. When bleached human bones are identified as belonging to a former patient of Dr. Dillon Dixon, Detective Malcolm Kier suspects the worst. Dixon was recently acquitted of attempted murder, thanks to defense attorney Angie Carlson. But as the body count rises, Kier is convinced that Angie is now the target of a brutal, brilliant psychopath. Angie is no stranger to the dark side of human nature. But nothing has prepared her for the decades-long legacy of madness and murder about to be revealed – or a killer ready to claim her as his ultimate trophy.
Everything I said about Senseless I could repeat about Merciless. The romance happens very late in the book, though in this one there is much more of a cat and mouse game between Malcolm and Angie. There's very much a "boy likes girl so he dips her pigtails in the ink" vibe about it. I haven't read enough of Burton's work to know if this late-in-the-game romance is a signature of hers or if it has just worked that way in these books. The crime in this one is a little less personal than the previous book, or at least it starts out that way. And again, the book is missing that sense of place I was looking for — I didn't even remember that it was supposed to be taking place in Alexandria, Virginia. But overall, it's still an entertaining story.  Burton is capable of dreaming up some pretty sadistic killers.
This book was a review copy.
Other reviews:
Book Review: Merciless by Mary Burton « Rundpinne
Minding Spot: Merciless by Mary Burton
Merciless — Mary Burton | Writings of a Wicked Book Addict
Page count: 416 ('11 total: 5,364) | Approximate word count: 104,000 ('11 total: 1,882,552)
2010: Gossip of the Starlings (Nina de Gramont)
2009: The Prey (Allison Brennan)
2008: Sad Cypress (Agatha Christie)
2007: The Brotherhood of the Holy Shroud (Julia Navarro)
2006: Kill the Messenger (Tami Hoag)
2005: G is for Gumshoe (Sue Grafton)
Used in these Challenges: Countdown Challenge 2011; ARC Reading Challenge 2011; Outdo Yourself Reading Challenge 2011;