2011: #28 – Blood Vines (Erica Spindler)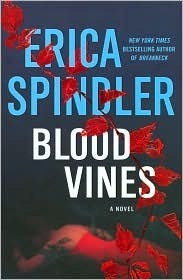 Book #28 was Blood Vines by Erica Spindler. The back of the book reads:
When Alexandra Clarkson starts having terrifying visions, she thinks that her mind is playing tricks on her. But when Alex's mother, Patsy, commits suicide without leaving behind any information, Alex is left to wonder whether she might be haunted by something from a childhood she can't remember.

Detective Daniel Reed was the last person to speak to Patsy. What he reveals to Alex is shocking: Twenty-five years earlier, Patsy was married to Harlan Sommer, one of Sonoma County's most prominent vintners, when their infant son disappeared without a trace. The loss destroyed the Sommers' marriage, causing Patsy to leave and take Alex with her.

Called on to investigate the identity of a baby's remains unearthed in a Sonoma vineyard, Reed had picked up a trail that led him to Patsy in San Francisco. Could these cold bones be Alex's long lost baby brother? Alex joins Reed in Sonoma for the investigation—and is soon drawn deep into the search for a twisted killer…
This book was merely okay. When the remains of a baby, long dead, are found in a vineyard, the mystery looks promising. How will it all connect to Alex and her mother? But what starts as promising eventually falls flat, because the characters never grow enough to carry it. Alex and Reed spend a lot of time in bed, but we don't get much of an opportunity to see them in non-intimate situations. Their relationship in the book would have greatly benefited from some sexual tension and build-up. And, for me, too many pieces of the mystery didn't hold together. It ended up a big jumble of events. I tend to run hot and cold on Spindler, and this one left me cold.
Other reviews:
S. Krishna's Books: Book Review: Blood Vines – Erica Spindler
Page count: 400 ('11 total: 7,577) | Approximate word count: 100,000 ('11 total: 2,687,602)
2010: Hit and Run Holiday (Carolyn Keene)
2009: In the Woods (Tana French)
2008: Midnight Bayou (Nora Roberts)
2007: The Black Echo (Michael Connelly)
2006: Purity in Death (J.D. Robb)
2005: Wicked (Gregory Maguire)
Used in these Challenges: 2011 E-book Reading Challenge; Outdo Yourself Reading Challenge 2011;