2011: #29 – In the Name of Honor (Richard North Patterson)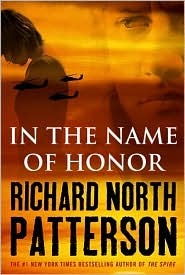 Book #29 was In the Name of Honor by Richard North Patterson. The back of the book reads:
Home from Iraq, a lieutenant kills his commanding officer—was it self-defense or premeditated murder? An enthralling novel of suspense about the high cost of war and secrets.

The McCarrans and the Gallaghers, two military families, have been close for decades, ever since Anthony McCarran—now one of the army's most distinguished generals—became best friends with Jack Gallagher, a fellow West Pointer who was later killed in Vietnam. Now a new generation of soldiers faces combat, and Lt. Brian McCarran, the general's son, has returned from a harrowing tour in Iraq. Traumatized by wartime experiences he will not reveal, Brian depends on his lifelong friendship with Kate Gallagher, Jack's daughter, who is married to Brian's commanding officer in Iraq, Capt. Joe D'Abruzzo. But since coming home, D'Abruzzo also seems changed by the experiences he and Brian shared—he's become secretive and remote.

Tragedy strikes when Brian shoots and kills D'Abruzzo on their army post in Virginia. Brian pleads self-defense, claiming that D'Abruzzo, a black-belt martial artist, came to his quarters, accused him of interfering with his marriage, and attacked him. Kate supports Brian and says that her husband had become violent and abusive. But Brian and Kate have secrets of their own, and now Capt. Paul Terry, one of the army's most accomplished young lawyers, will defend Brian in a high-profile court-martial. Terry's co-counsel is Meg McCarran, Brian's sister, a brilliant and beautiful attorney who insists on leaving her practice in San Francisco to help save her brother. Before the case is over, Terry will become deeply entwined with Meg and the McCarrans—and learn that families, like war, can break the sturdiest of souls.
Richard North Patterson likes to center his stories around an issue, and the one he tackles here is PTSD, and the lack of support for Iraq War veterans once they return state-side. We spend more time in the courtroom here than in his past few books, and that's both a plus and a minus.
On the plus-side, RNP is at home writing about the courtroom. He can create suspense and drama where there is little action. But the fact that the primary action has already happened when the story begins is a minus. What we're left with is a lot of talking heads as the players recount their stories over and over again. He tries to combat this with the use of flashbacks, but hearing the same story more than once with little variation gets a little tiresome.
I really didn't care for how he wrote the women in this story. They're either overly dramatic (the speeches they give in their grief are ridiculous) or conniving or martyrs. Ultimately, Paul Terry's motivations also aren't clear to me. He sleeps with a woman a few times and he's ready to give up his new career for her? It didn't compute.
Overall, I was entertained by this story, but I didn't love it. RNP is a master at writing the courtroom, but the characters behind it never gelled.
This book was a review copy.
Other reviews:
a lovely shore breeze….: a review of "In The Name Of Honor" [55]
Booklover Book Reviews » Blog Archive » Book Review – IN THE NAME OF HONOR
Page count: 416 ('11 total: 7,993) | Approximate word count: 124,800 ('11 total: 2,812,402)
2010: Food Rules (Michael Pollan)
2009: Can You Keep a Secret? (Sophie Kinsella)
2008: The Friday Night Knitting Club (Kate Jacobs)
2007: From Potter's Field (Patricia Cornwell)
2006: Divided in Death (J.D. Robb)
2005: Abandoned Prayers (Gregg Olsen)
Used in these Challenges: ARC Reading Challenge 2011; Outdo Yourself Reading Challenge 2011;