2012: #4 – Shakespeare's Champion (Charlaine Harris)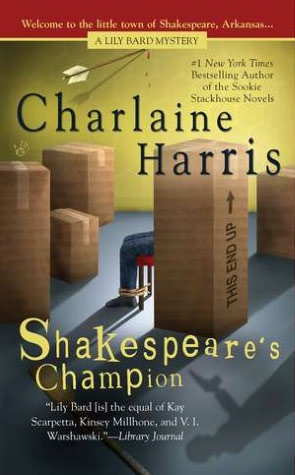 Title: Shakespeare's Champion
Author: Charlaine Harris
Series: Lily Bard #02
Format: Audio
Audiobook length: 7 hrs 20 min
Release Date: December 05, 2006
Publisher: Prime Crime (MM)
Categories: mystery, dark cozy
Source: personal copy
Rating: 4 out of 5

Back of the book:
When Lily stumbles upon the well-built corpse of a local body builder-his neck broken by a barbell-the town's underlying racial tension begins to boil over. The white victim was somehow connected to two unsolved murders of black residents of Shakespeare-and a dogged policeman is determined to stop the killing. But it is Lily herself who may have to decide whether to stay and fight for justice, or run away one more time.
My thoughts:
This series is a little different than some of Harris's other series, because there's no paranormal element. Lily is a regular girl, at least genetically. Socially, she likes to keep to herself. Her stand-offishness and dedication to staying strong and in shape is understandable, because Lily is the survivor of a brutal attack. But it's not doing her any favors.
That dedication to her exercise routine (and on-again-off-again relationship with gym owner Marshall) leads to her discovery of a man's body in the local gym. Lily's natural curiosity is peaked when it appears that his death isn't an accident, and she spends the novel trying to figure out not only what happened, but how she can stop it from continuing.
Small-town racial tension is the main theme that runs through this mystery. Lily, who still feels like an outsider despite living in Shakespeare for more than a few years, navigates her way through thanks to her job as a housekeeper — a brilliant way to be an amateur sleuth. Unfortunately, I think she finds herself in the wrong place at the wrong time a little too often. Really, it's a fault of the first person perspective. The only way we have to witness these events is through Lily's eyes, so she needs to be there.
I did enjoy the introduction of a new love interest for Lily. Her back and forth with the police chief was getting a little tiresome, and Jack seems like a better fit for her anyhow.
Despite its flaws, I do like this series and will continue to follow Lily's adventures.
Available from: Amazon | Barnes & Noble | IndieBound | WorldCat
Other reviews:
Past reviews:
2011: Bite Me (Christopher Moore)
2010: Night Fire (Catherine Coulter)
2009: Kopek the Destroyer (Phil Owens)
2008: The Ice Queen (Alice Hoffman)
2007: Agnes of God (Leonore Fleisher)
2006: Postmortem (Patricia Cornwell)
2005: The Bad Beginning (Lemony Snicket)