2011: #43 – Hush (Kate White)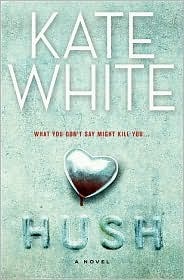 Book #43 was Hush by Kate White. The back of the book reads:
When Lake Warren learns that her husband, Jack, is suing for full custody of their two kids four months after their separation, she's pretty certain that things can't get any worse. The upside is that she's working with the Advanced Fertility Center as a marketing consultant, alongside the attractive, flirtatious Dr. Keaton. But the morning after their one-night stand, Lake finds Keaton with his throat slashed and discovers that things can indeed become worse—they can become deadly.

So as not to jeopardize her case for custody, Lake is forced to lie to the police. Having just been intimate with a man who has been murdered, and wanting to protect herself from being charged with the crime, she begins her own search for the truth. Meanwhile, the police start looking at her closely, people at the clinic start treating her with hostility, and strange clues begin dropping—quite literally—on her doorstep, and Lake realizes that she is dangerously close to dark secrets, both about Keaton and the clinic. But can Lake stop what she's started before it's too late?
I'm going to get straight to the point. I didn't like this. Not only is Lake's name ridiculous, most of her actions are ridiculous. She seems to be allergic to the police, no matter what sort of danger or harassment has befallen her, all with the weak excuse of "if anything bad is connected with me, my ex-husband will steal my kids!". It just didn't hold together for me. I thought she was infuriatingly stupid. With infertility treatment being a burgeoning issue, this could have been an interesting mystery, but instead we're burdened with an awful protagonist and giant red herring. I won't be in a rush to pick up another book by this author.
Other reviews:
S. Krishna's Books: Book Review: Hush – Kate White
Book Review: Hush by Kate White
It's All About Books: Review: Hush by Kate White
Mrs.Q: Book Addict: Review: Hush by Kate White
Life in the Thumb: 'Hush' by Kate White (TLC Tour Book )
Page count: 368 ('11 total: 11,033) | Approximate word count: 91,250 ('11 total: 4,161,203)
2010: Stalking the Angel (Robert Crais)
2009: Full Blast (Janet Evanovich)
2008: Dark of the Moon (John Sandford)
2007: The Husband (Dean Koontz)
2006: Darksong Rising (L.E. Modesitt, Jr.)
2005: Vengeance in Death (J.D. Robb)
Used in these Challenges: 2011 E-book Challenge; New Author Challenge 2011; Outdo Yourself Reading Challenge 2011;