2016: Cinder (Marissa Meyer)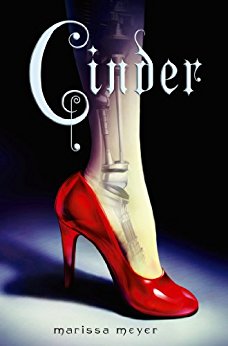 Cinder
by
Marissa Meyer
Series:
The Lunar Chronicles #01
Published by
Square Fish
on January 8th 2013
Genres:
y/a science fiction/dystopian
Pages:
387


Also by this author:
Scarlet
,
Cress
,
Winter
Also in this series:
Scarlet
,
Cress
,
Winter
Humans and androids crowd the raucous streets of New Beijing. A deadly plague ravages the population. From space, a ruthless lunar people watch, waiting to make their move. No one knows that Earth's fate hinges on one girl.
Cinder, a gifted mechanic, is a cyborg. She's a second-class citizen with a mysterious past, reviled by her stepmother and blamed for her stepsister's illness. But when her life becomes intertwined with the handsome Prince Kai's, she suddenly finds herself at the center of an intergalactic struggle, and a forbidden attraction. Caught between duty and freedom, loyalty and betrayal, she must uncover secrets about her past in order to protect her world's future.
Cinder is a retelling of Cinderella set in a future dystopian backdrop. What particularly make it stand out is that the Cinder of this story is not a young girl, but a cyborg in a world that doesn't see cyborgs as equal to humans. I really enjoyed the story, and it sucked me in from the start.
The nice thing about this retelling is it hits all the beats of the original without being a point-by-point copy. The inspiration is obvious — there's a charming prince, and an evil stepmother, and even a pumpkin (of sorts) — but there's enough divergence to make it interesting. For one, Cinder isn't in it for love, and she has much more influence on her story than the Cinderella of old.
The setting was a little unexpected. Not so much the dystopian part, or the problem of the plague, but it being set in a future China. Even though you learn early on where they are, there's not a lot in the story where it matters. There are some Chinese names, but ultimately they could be in any nondescript city. I wish there had been a little more emphasis on the culture so it did matter.
Overall, this was a quick and enjoyable read. The ending leaves some questions unanswered, so I definitely plan to continue the series.
Other reviews:
"Familiar story, fun new setting and twists, check. Super lovable characters, including swoony prince and lovable android, check. What else, what else… oh! Two things." — There Were Books Involved
"Overall, Cinder is one of the best retellings I have read in a while. It's a fabulous start to Marissa Meyer's Lunar Chronicles and I am very eager to read the rest of her retellings!" — Katie's Book Blog
"Despite the criticisms I had, I devoured the book in basically one sitting and thoroughly enjoyed it. Will most definitely be back for the sequel." — The Book Smugglers (Ana and Thea)