2011: #5 – Bolt (Dick Francis)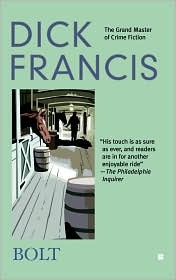 Book #5 was Bolt by Dick Francis.  The back of the book reads:
Kit Fielding will do whatever it takes to stop the killing of racehorses. Not an easy task considering that the woman he adores is leaving him, an international arms dealer is threatening him, and Kit's nemesis has plans to knock him off the track–and plant him under it.
I am always pleased after I finish a Dick Francis novel.  Kit Fielding is the leading man Francis loves to give us.  He's charming, unflappable, and a little out of place in his profession, yet isn't invincible, and isn't the luckiest in love.  We have three storylines here that are woven together expertly and in unexpected ways.  Kit is asked by his friend that he rides for, Princess Casilia, to help them fend off an over-exuberant business partner who says he'll do anything to get what he wants.  As if that weren't enough, a racing rival is out to get him, and he's pretty sure his fiancé is going to leave him for the Princess's nephew. Just when we are sure the story is going one way, everything takes a left turn.  This is an author that will always be on my to-read list.
Page count: 288 ('11 total: 986) | Word count: 79,673 ('11 total: 437,273)
2010: Bird by Bird (Anne Lamott)
2009: Five on a Treasure Island (Enid Blyton)
2008: I Heard That Song Before (Mary Higgins Clark)
2007: Up Island (Anne Rivers Siddons)
2006: The Big Love (Sarah Dunn)
2005: The Reptile Room (Lemony Snicket)
Used in these Challenges: Four Month Challenge – Part 5; 2011 E-book Reading Challenge; Outdo Yourself Reading Challenge 2011;