2011: #63 – Outcasts United (Warren St. John)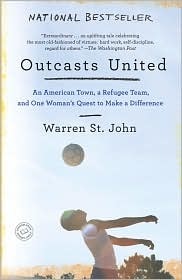 Book #63 was Outcasts United by Warren St. John. The back of the book reads:
The extraordinary tale of a refugee youth soccer team and the transformation of a small American town.

Clarkston, Georgia, was a typical Southern town until it was designated a refugee settlement center in the 1990s, becoming the first American home for scores of families in flight from the world's war zones—from Liberia and Sudan to Iraq and Afghanistan. Suddenly Clarkston's streets were filled with women wearing the hijab, the smells of cumin and curry, and kids of all colors playing soccer in any open space they could find. The town also became home to Luma Mufleh, an American-educated Jordanian woman who founded a youth soccer team to unify Clarkston's refugee children and keep them off the streets. These kids named themselves the Fugees.

Set against the backdrop of an American town that without its consent had become a vast social experiment, Outcasts United follows a pivotal season in the life of the Fugees and their charismatic coach. Warren St. John documents the lives of a diverse group of young people as they miraculously coalesce into a band of brothers, while also drawing a fascinating portrait of a fading American town struggling to accommodate its new arrivals. At the center of the story is fiery Coach Luma, who relentlessly drives her players to success on the soccer field while holding together their lives—and the lives of their families—in the face of a series of daunting challenges.

This fast-paced chronicle of a single season is a complex and inspiring tale of a small town becoming a global community—and an account of the ingenious and complicated ways we create a home in a changing world.
I read this for my book club, and as part of this year's Roanoke Valley Reads program. The program is designed to increase reading and foster a sense of community, and is supplemented with several discussion programs across the valley. This book was a particularly good pick, because like Clarkston, Roanoke is a refugee resettlement community. I had no idea until I read this book.
Overall, I thought this book was interesting and well-done. St. John shares with us a variety of refugee experiences, ranging from African civil and tribal wars to the war in Bosnia. Along the way, we learn a little about what started these conflicts, and how the refugees ended up that way. We also learn about a side of small-town politics that I'm sure the town of Clarkston wishes they didn't have.
But it's not all about taking the side of the refugees over the "natives" of Clarkston. It's obvious that the refugee resettlement program has a lot of problems, and many of the problems in Clarkston could have been eliminated if the program was better managed. Other problems are cultural, and are harder to overcome.
There's a lot of soccer talk in the book, but it's easy to understand even for the uninitiated. Several of the people in the book club who didn't know anything about soccer said they had no problem following what was going on.
The only thing I thought the book was missing was a more well-rounded depiction of Luma. We get a good idea of her background, but eventually she becomes rather one-dimensional. She's just "Coach". I can't pinpoint exactly what else I would have liked to know, just that there was something missing.
Several blog posts about this book and the Roanoke Valley Reads events can be found on the Roanoke Valley Reads web site.
Other reviews:
Review: Outcasts United « Book Addiction
Book Review: Outcasts United by Warren St. John
Mary of Many Colors: Book Review: Outcasts United
Outcasts United | Book reviews for children and adults | 5 Minutes For Books
In Laurie's Mind: Review: Outcasts United
Page count: 336 ('11 total: 17,486) | Approximate word count: 100,800 ('11 total: 6,186,192)
2010: Dead and Gone (Charlaine Harris)
2009: Bad Things (Michael Marshall)
2008: Key of Light (Nora Roberts)
2007: Born in Death (J.D. Robb)
2006: Dark Angel (Karen Harper)
2005: Godplayer (Robin Cook)