2019: #25 – My Life As a Goddess (Guy Branum)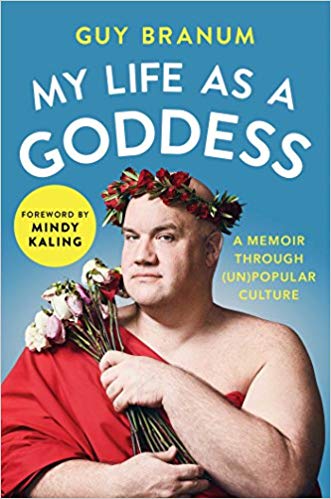 My Life as a Goddess: A Memoir through (Un)Popular Culture
by
Guy Branum
Published by
Atria Books
on July 31, 2018
Genres:
memoir
Pages:
288


In the vein of New York Times bestsellers Why Not Me? by Mindy Kaling and We Are Never Meeting in Real Life by Samantha Irby, a collection of side-splitting yet introspective essays by the popular stand-up comic, Chelsea Lately alum, host of truTV's The Talk Show Game Show, and writer for The Mindy Project.

From a young age, Guy Branum always felt as if he were on the outside looking in.

Self-taught, introspective, and from a stiflingly boring farm town, he couldn't relate to his neighbors. While other boys played outside, he stayed indoors reading Greek mythology. And being gay and overweight, he got used to being invisible. But little by little, he started learning from all the sad, strange, lonely outcasts in history who had come before him, and he started to feel hope.

In this collection of personal essays, Guy talks about finding a sense of belonging at Berkeley—and stirring up controversy in a newspaper column that led to a run‑in with the Secret Service. He recounts the pitfalls of being typecast as the "Sassy Gay Friend," and how, after taking a wrong turn in life (i.e. law school), he found stand‑up comedy and artistic freedom.

Digressing from his personal narratives, Guy also argues why Katy Perry's "California Girls" is the Aristotelian ideal of a summer jam, and how brunch, as a fundamentally unnecessary but delightful meal, is deeply gay. He analyzes society's calculated deprivation of personhood from fat people, and though it's taken him awhile to accept who he is, Guy has learned that with a little patience and a lot of humor, self-acceptance is possible.
Guy Branum is a comedian/writer who is possibly best known for being a writer for Chelsea Handler and the Mindy Project, and the host of Talk Show the Game Show and the Pop Rocket podcast, which is how I was introduced to him and became a fan. Being familiar with Guy and his style/delivery, this book was even more than I expected.
Guy uses pop culture, allegories, and more to tell us the story of his life so far. Growing up as a bookish, overweight, Jewish boy in an area more accustomed to corn-fed (or maybe almond-fed) football players and in a time where teens coming out as gay wasn't a thing, Guy struggled to fit in and find his place. He learned to find comfort with his mother and the pop culture she shared with him. With his wry, often self-deprecating sense of humor, Guy takes us to the important places, times, and people in his life.
I was touched by the unexpected tenderness and forgiveness in the chapter about his relationship with his no-nonsense father. I also learned a surprising amount about the history of Canada and Ruth Bader Ginsburg, and was treated to a fantastic analysis of Queen's Bohemian Rhapsody. Also, I learned all I ever need to know about Entourage.
If you are a fan of Guy, and maybe more so if you don't know who he is, do yourself a favor and pick up the audiobook version of this. Guy's own voice lends so much life to his writing, making things even as dry as the aforementioned history of Canada a compelling listen.
Other reviews:
"His essay on his father, the section on Babette's Feast, the contemplations on Canada and on the Punjab region- frankly, all of these sections should be taught in English 101 as examples of the narrative essay. They are exquisite." — Reads All the Things
"Branum's childhood and his growth into adulthood was a difficult journey, but thankfully he has risen above it, and more thankfully for us, he is willing to share himself with us." — It's Either Sadness or Bookphoria