2017: #10 – Poirot Investigates (Agatha Christie)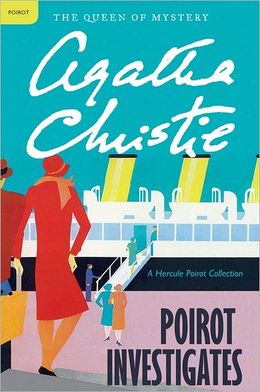 Poirot Investigates
by
Agatha Christie
Series:
Hercule Poirot #03
Published by
William Morrow Paperbacks
on September 27th 2011
Genres:
amateur investigator
,
mystery
Pages:
256


Also by this author:
The Mysterious Affair at Styles
Also in this series:
The Mysterious Affair at Styles
Poirot Investigates a host of murders most foul—as well as other dastardly crimes—in this intriguing collection of short stories from the one-and-only Agatha Christie.

First there was the mystery of the film star and the diamond... then came the "suicide" that was murder... the mystery of the absurdly cheap flat... a suspicious death in a locked gun room... a million dollar bond robbery... the curse of a pharaoh's tomb... a jewel robbery by the sea... the abduction of a prime minister... the disappearance of a banker... a phone call from a dying man... and, finally, the mystery of the missing will.

What links these fascinating cases? Only the brilliant deductive powers of Hercule Poirot!
I almost always like Agatha Christie, but I think her mysteries work better in novel format, rather than short stories. These were entertaining, but got a little repetitive. As you read one after the other, it gets easier to pick out the tricks of the trade. This book is perhaps best consumed a little at a time, something you pick up once every few weeks and knock out a story from.
Other reviews:
"Because of lack of space, the plots, although creative, aren't overly-complicated and the characters are only a few so it's quite easy in most cases to guess who the culprit is." – History & Other Thoughts
"For a work trip, in some ways this beats a novel since stopping between stories is a little bit easier. While the stories are not all equal, the book as a whole was a great ride." – David Evans' personal blog
"Although some very good mysteries here, I did start to think they were all the same – misdirection and always the most obvious person pretending to be someone else." – Words and Pieces