2020: #18 – The Hunting Party (Lucy Foley)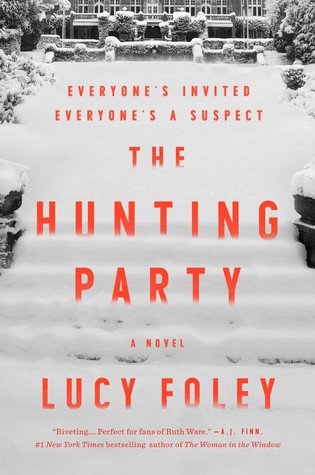 The Hunting Party
by
Lucy Foley
Published by
William Morrow
on February 12, 2019
Genres:
general mystery
Pages:
336


For fans of Ruth Ware and Tana French, a shivery, atmospheric, page-turning novel of psychological suspense in the tradition of Agatha Christie, in which a group of old college friends are snowed in at a hunting lodge . . . and murder and mayhem ensue.

All of them are friends. One of them is a killer.

During the languid days of the Christmas break, a group of thirtysomething friends from Oxford meet to welcome in the New Year together, a tradition they began as students ten years ago. For this vacation, they've chosen an idyllic and isolated estate in the Scottish Highlands—the perfect place to get away and unwind by themselves.
They arrive on December 30th, just before a historic blizzard seals the lodge off from the outside world.

Two days later, on New Year's Day, one of them is dead.

The trip began innocently enough: admiring the stunning if foreboding scenery, champagne in front of a crackling fire, and reminiscences about the past. But after a decade, the weight of secret resentments has grown too heavy for the group's tenuous nostalgia to bear. Amid the boisterous revelry of New Year's Eve, the cord holding them together snaps.

Now one of them is dead . . . and another of them did it.

Keep your friends close, the old adage goes. But just how close is too close?
The Hunting Party is about an ill-fated annual New Year's trip taken by a group of 9 friends – four couples and a singleton. Since Miranda is the queen bee of the group, it might be easiest to explain who everyone is related to her:
Miranda and Julien (her husband)
Mark (used to be obsessed with Miranda) and his girlfriend, Emma (the trip organizer)
Samira (Miranda's "fun" best friend) and her husband Giles (and they have a baby with them)
Nick (the gay friend) and his husband Bo
Katie (Miranda's "serious" best friend)
All of them except Emma, Giles, and Bo have been friends since university or before, and have taken many of these New Year's jaunts together. But never in a place as unusual as the isolated estate in the Scottish Highlands. They discover that they are going to be hours from civilization, with hardly a working cell signal. Not something these metropolitan friends are particularly used to. But Emma has an elegant experience planned for them all — until things start going wrong.
First, it seems like some of them are a little out of sorts. The passage of time and life has maybe meant that they are not as open with each other as they used to be. Then, they discover that they are not going to be the only visitors to the estate — a strange Icelandic couple is also there. A snowstorm rolls in, further isolating the estate. The New Year's Eve party gets a little wild. And then — a body is found.
You actually find out about the body very early in the story, but you don't know who it is or even what their gender is. The story alternates between the present, as they wait for the police to make it through the snowstorm, and the previous 3 days. The present chapters are seen through the eyes of Heather, the manager of the estate, which helps to keep things a mystery.
Overall I thought this was an entertaining story, and I found that I was surprised by the twists and turns. I sort of had an idea of what the overall story of the estate was, but I wasn't quite right. I think it's a pretty solid "closed-door" mystery/thriller.
I read this for the PopSugar Reading Challenge this year — this book fulfilled the "book published the month of your birthday" prompt.
Other reviews:
"Atmospherically, Foley gets an A for creating a realistic, desolate, and spooky environment. It is easy to imagine the paranoia the guests feel as one of their own is murdered. Unfortunately, not know which of them is murdered until late in the novel doesn't allow the reader to become fully invested in this sense of collective dread." — She's Full of Lit
"If I had to sum up the The Hunting Party in one word it would be fun. Foley's writing is so atmospheric that readers will feel like they in the Scottish Highlands with the eleven friends watching the theatrics unfold. If the release of The Hunting Party is first sign of the revival of the locked door mystery, other authors who follow have large shoes to fill." — Murder and Moore
"I found The Hunting Party to be a very compelling story, despite not actually liking the various characters! I liked the way the author kept ending the narrators' parts with cliffhangers which made me wonder just exactly what was going on. It definitely kept me guessing right to the end." — Portobello Book Blog