2018: #7 – Blue Monday (Nicci French)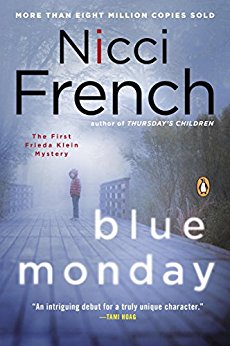 Blue Monday
by
Nicci French
Series:
Frieda Klein #01
Published by
Pamela Dorman Books
on March 1, 2012
Genres:
psychological thriller
Pages:
322


Also by this author:
Complicit
The stunning first book in a new series of psychological thrillers introducing an unforgettable London psychotherapist Frieda Klein is a solitary, incisive psychotherapist who spends her sleepless nights walking along the ancient rivers that have been forced underground in modern London. She believes that the world is a messy, uncontrollable place, but what we can control is what is inside our heads. This attitude is reflected in her own life, which is an austere one of refuge, personal integrity, and order.

The abduction of five-year-old Matthew Farraday provokes a national outcry and a desperate police hunt. And when his face is splashed over the newspapers, Frieda cannot ignore the coincidence: one of her patients has been having dreams in which he has a hunger for a child. A red-haired child he can describe in perfect detail, a child the spitting image of Matthew. She finds herself in the center of the investigation, serving as the reluctant sidekick of the chief inspector.

Drawing readers into a haunting world in which the terrors of the mind have spilled over into real life, "Blue Monday" introduces a compelling protagonist and a chilling mystery that will appeal to readers of dark crime fiction and fans of "In Treatment" and "The Killing."
This book is the first in the Frieda Klein series. Frieda is a psychotherapist with a very private life. In London, everyone is concerned with the case of a missing five-year old boy, a case that may have a connection to a similar abduction 22 years earlier. Freda starts to suspect that one of her patients, a man who has been having dreams about having a child, may be connected to the kidnapping. She ends up sucked into the investigation, helping the Chief Inspector. 
I enjoyed this as much as I've enjoyed the other Nicci French novels I've read. I especially liked that the end is more open than I would have expected. The investigation goes in an unusual direction, and that kept me interested.
Other reviews:
"I always enjoy novels which accurately portray the contradictions and uncertainties inherent in human behavior and this one does that very successfully.  Highly recommended." — Fictionophile
"The plot is the thing I liked the least. Many may question how is it that a plot in a crime novel is the least important thing, but I loved getting to know Frieda, her work and her as a character." — Bodies in the Library