2016: Deep Freeze (Lisa Jackson)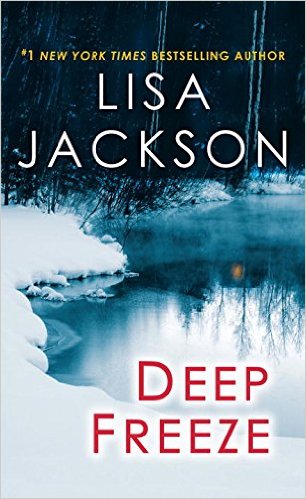 Deep Freeze
by
Lisa Jackson
Series:
West Coast #01
Published by
Zebra Books
on 2005
Genres:
suspense thriller
Pages:
416


HER BIGGEST FAN...
When she wakes up, she's very cold. Colder than she's ever been in her life. She can't move or speak. And then she sees him. The one who took her. And before she dies, she wishes she could scream...
IS ABOUT TO BECOME ...
Former movie star Jenna Hughes left Hollywood for an isolated farm in Oregon to get away from fame. But someone has followed her - an obsessed fan whose letters are personal and deeply disturbing. And while Jenna's already shaken up by what she's seen on paper, she'd be terrified if she knew what Sheriff Shane Carter is investigating. It's a shocking case that started with the discovery of a dead woman in the woods. Now two more women are missing, one of whom bears a striking resemblance to Jenna...
HER WORST NIGHTMARE ...
As a winter storm bears down on the pacific northwest, a merciless killer's grisly work has only just begun. And Jenna is Getting Closer to meeting her biggest fan.. one who wants nothing more than to see her dead..
I thought this was a solid piece of suspense writing, despite being a little slow in spots. The focus is on Jenna Hughes, a successful Hollywood actress who gave it all up after a professional and personal tragedy, and her two daughters. Someone is stalking her, but in a very round-about way. Not only is there a good cast of characters, from the Sheriff to the overprotective neighbor to the best friend, but the weather itself is a character. The cold and the weather get in the way at every turn.
I think some of the parts where you're in the killer's head could have been cut back a bit — it got repetitive. But other than that, I don't have many complaints. A little more romance would have made it perfect. Eventually, the romantic connection is made, but there's not enough room left in the book for it to breathe.
Other reviews:
"This book could have become cliched stalker/thriller, but Lisa Jackson's macabre sense of danger and suspense makes it unique and scary and thrilling all at the same time." — I Just Finished Reading…
"My interest waned but as I really wanted to learn about that obssessed fan, it is what kept me going on." — Everything Distils into Reading
"Overall though I was kind of expecting a little bit more, maybe it was the fact that her books come so highly recommended." — Book/Other Reviews and My Photography