2016: Uprooted (Naomi Novik)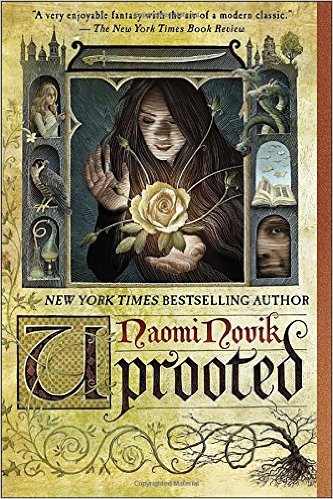 Uprooted
by
Naomi Novik
Published by
Del Rey
on March 1st 2016
Genres:
fantasy
Pages:
438


Also by this author:
A Deadly Education
,
His Majesty's Dragon
Agnieszka loves her valley home, her quiet village, the forests and the bright shining river. But the corrupted Wood stands on the border, full of malevolent power, and its shadow lies over her life.
Her people rely on the cold, driven wizard known only as the Dragon to keep its powers at bay. But he demands a terrible price for his help: one young woman handed over to serve him for ten years, a fate almost as terrible as falling to the Wood.
The next choosing is fast approaching, and Agnieszka is afraid. She knows—everyone knows—that the Dragon will take Kasia: beautiful, graceful, brave Kasia, all the things Agnieszka isn't, and her dearest friend in the world. And there is no way to save her.
But Agnieszka fears the wrong things. For when the Dragon comes, it is not Kasia he will choose.
"Our Dragon doesn't eat the girls he takes, no matter what stories they tell outside our valley."
It's been a long time since I read a true fantasy novel. I had heard a lot of buzz about Uprooted over the last year, and all of it was positive. It was one of the few fantasy novels that I'd see people recommend over and over. And for once, all of the hype is richly deserved.
Agnieszka is a young girl growing up in a village at the edge of the corrupt Wood, which would absorb her village and turn everyone in it into raving, evil lunatics if given half an opportunity. The only thing keeping the Wood at bay is the Dragon. The mysterious wizard appears every 10 years and takes away with him a single girl. She will return 10 years later, unharmed yet never the same. Everyone believes the next girl to be taken will be Kasia, Agnieszka's best friend.
Except it's not. The next girl is Agnieszka. It turns out, she has a gift, and that gift is magic.
What follows is part coming-of-age, part quest, and part fairy tale. And it's all fantastic.
Agnieszka is a compelling lead character. She is timid, but grows more bold. She is unsure, but grows more competent. She is steadfast in her loyalty. Her heart is open, even when it shouldn't be. And it turns out that she's not the hero anyone wanted, or ever expected, but she's exactly the one they all need.
My only complaint about this novel is that there isn't more of it. I wish it was going to be a series. Or at minimum, a trilogy!
Other reviews:
"Uprooted suits anyone with a bit of magic residing inside of them – people who love to be swept away to wonderful kingdoms full of heroic knights, enchanted forests, complicated court politics, and mysterious wizards with hidden motives." — The Bookish Blog
"Uprooted is a beautiful, nearly-flawless read, and I loved it wholeheartedly from first chapter to empowering and heart-rendering finale." — The Book Smugglers
"It's all of this, the mastery of craft, the runaway bullet train of action, the fullness of the characters, and the sophisticated emotional honesty, that makes Uprooted a must-read." — The Ballpoint Apocalypse