2016: The Lost Girls (Jennifer Baggett, Holly C. Corbett & Amanda Pressner)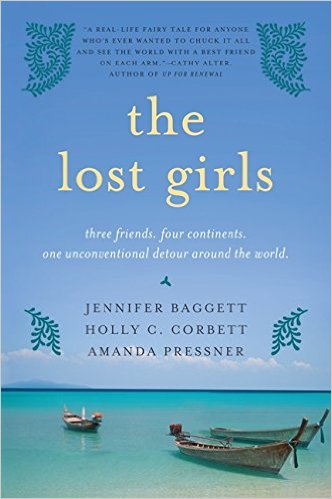 The Lost Girls: Three Friends. Four Continents. One Unconventional Detour Around the World.
by
Jennifer Baggett
,
Holly C. Corbett
,
Amanda Pressner
Published by
Harper Perennial
on April 26th 2011
Genres:
non-fiction
,
travel
Pages:
560


Jen, Holly, and Amanda are at a crossroads. They're feeling the pressure to hit certain milestones--scoring a big promotion, finding a soul mate, having 2.2 kids--before they reach their early thirties. When personal challenges force them to reevaluate their lives, they decide it's now or never to do something daring.
Unable to gain perspective in fast-paced Manhattan, the three twenty-somethings quit their coveted media jobs and leave behind their friends, boyfriends, and everything familiar to travel the globe. Dubbing themselves the Lost Girls, they embark on an epic yearlong search for inspiration and direction.
As they journey 60,000 miles across four continents and more than a dozen countries, Jen, Holly, and Amanda step far outside of their comfort zones, embracing every adventure and experience the world has to offer--shooting blowguns with Yagua elders in the Amazon, learning capoeira on the beaches of Brazil, volunteering with preteen girls at a school in rural Kenya, hiking with Hmong villagers in Vietnam, and driving through Australia in a psychedelic camper van. Along the way, the Lost Girls find not only themselves but also a lifelong friendship.
Ultimately, theirs is a story of true sisterhood--a bond forged by sharing beds and backpacks, enduring exotic illnesses, fending off aggressive street vendors, trekking across rivers and over mountains, and standing by one another through heartaches, whirlwind romances, and everything in the world in between.
This candid and compelling memoir will speak to anyone who has ever felt the desire to spread her wings and discover the world with her best friends by her side.
You have to admire what these girls did. In their mid-twenties and mired in the fast-paced world of magazine publication in New York, they decided it was now or never. It was time to explore the world.
Over the course of a year, their trip took them to South America, Kenya, several countries in SE Asia, Bali, New Zealand, and Australia. And the book covers it all, some in more detail than others. That's actually one of my quibbles with the book. So much time is spent on that first month or so in South America that by the time they reach the end of their trip in New Zealand and Australia, all of the energy had disappeared from the story.
I also had a problem with the narration. The three girls sounded much too alike to be able to tell who was writing unless unless there were heavy context clues (or you checked the beginning of the chapter — easier to do in hard copy than in the e-book). I wish their voices had been a little more distinctive.
I also love to travel, but I can't say that the book inspired any wanderlust in me. Though they certainly saw sights that I would love to see myself, they did it in a way (backpacks and hostels) that this almost-40 lady wouldn't be able to hack. Also: stay away from yoga schools in India.
Each of the girls definitely felt a little "lost" during their journey. What would await them when they returned to real life? Would they be happy with the same jobs, the same people, or are they forever changed? These are questions that aren't really answered in the book, though if you read the afterword you know that they've continued to make travel a large part of their lives.
Overall, I liked reading about their journey, but it took me a long time to get through it.
Other reviews:
"I adored this book of the adventures of these three amazing women who threw caution to the wind and explored our world as most of us have only dreamed of." — Book Journey
"As a book, their tales felt a little long . . . and, at times, repetitive. New country. New people. New guys. Throw into a pot and simmer, then serve and repeat." — Write Meg!
"The Lost Girls is a travel memoir, and it successfully plots compelling reasons for why it was written, the actual adventure, and the resulting changes in each author's life and perspective by the end of the journey; however, it lacks the depth that would make it appealing to a wide age group of travel essay enthusiasts." — Amateur Traveler