2016: The Ice Twins (S.K. Tremayne)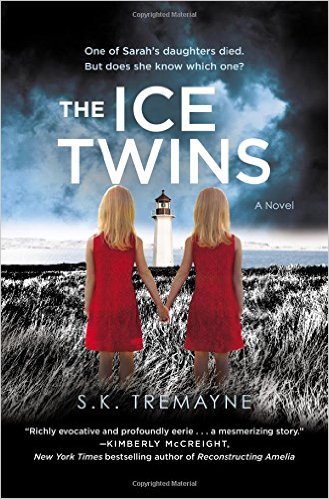 The Ice Twins
by
S.K. Tremayne
Published by
Grand Central Publishing
on April 26th 2016
Genres:
psychological thriller
Pages:
320


A year after one of their identical twin daughters, Lydia, dies in an accident, Angus and Sarah Moorcroft move to the tiny Scottish island Angus inherited from his grandmother, hoping to put together the pieces of their shattered lives. But when their surviving daughter, Kirstie, claims they have mistaken her identity--that she, in fact, is Lydia--their world crashes in once again. As winter encroaches, Angus is forced to travel away from the island for work, Sarah is feeling isolated, and Kirstie (or is it Lydia?) is growing more disturbed. When a violent storm leaves Sarah and her daughter stranded, they are forced to confront what really happened on that fateful day.
Honestly, I didn't finish this book. It rides the line between psychological thriller and ghost story, but even that and the "creepy little kid" trope weren't enough to keep me going.
I just couldn't relate to or understand ANYTHING the mother did. Or most of what the father did. Starting with moving their family to a house they haven't even set eyes on (her) or set eyes on in a couple of decades (him). A house that is barely holding itself together. A house with a phone line you can't hear, no cell service, and questionable electrical service. I guess it had working plumbing? Oh, and it's on a desolate island you can only access via boat or mudflats that are maaaaaaaybe passable by foot at low tide (if you move fast enough). AND THEY DON'T OWN A BOAT.
I get the whole thing about the creepy location adding to the creepy story, but the rest of the story just doesn't hold together to me. There are some things you can excuse under the guise of "grief may make one act unreasonably", but as a whole it all added up to one big nope. In fact, the first big "twist" was the point where I put the book down and didn't pick it back up again.
This was a book club read so I was able to find out what the resolution to the story was, but once I did, I didn't feel like I had missed anything.
Other reviews:
"I enjoyed the journey more than I enjoyed the destination, but still a must read thriller of 2015." — Ajoobacats Blog
"So if creepy little girls and deeply conflicted parents and spooky Scottish islands get your blood pumping, and if you're not afraid to check the locks a little obsessively, then I highly recommend The Ice Twins." — Smart Bitches, Trashy Books
"While the desolate island helped set the tone for the story, the descriptions often got a little too cumbersome for me and I found myself skimming." — Stephanie's Book Reviews