2017: #15 – The Wangs vs. The World (Jade Chang)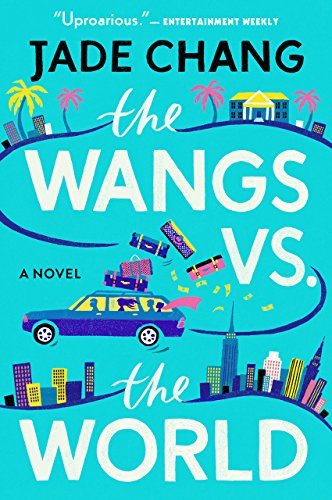 The Wangs vs. the World
by
Jade Chang
Published by
Mariner Books
on June 6th 2017
Genres:
comedic fiction
Pages:
384


Charles Wang, a brash, lovable businessman who built a cosmetics empire and made a fortune, has just lost everything in the financial crisis. So he rounds up two of his children from schools that he can no longer afford and packs them into the only car that wasn't repossessed. Together with their wealth-addicted stepmother, Barbra, they head on a cross-country journey from their foreclosed Bel-Air home to the Upstate New York retreat of the eldest Wang daughter, Saina. The trip brings them together in a way money never could.
At the heart of The Wangs vs The World is a desperate man. Charles Wang has lost everything, and now he has to tell his family about it.  His family — daughters Saina and Grace and son Andrew — has never known a life where they weren't ridiculously rich. What follows is Charles, his wife Barbra, Grace, and Andrew traveling across the country to stay with oldest daughter Saina, and the ways that each of them deal with their newfound circumstances.
This was a book club pick, and I'm not sure I would have read it otherwise. Something about the description didn't appeal to me, though I couldn't tell you what it was now. But, I did read it! And at the end, my reaction was the same as everyone else in my book club…. a resounding "meh?"
I felt a little bit lied to by the buzz ahead of this book. I really didn't find it that funny! Sure, it had funny parts, but I felt like the dark humor side of it needed to be pushed so much further. The characters are mostly unlikable, so without that humor I couldn't find many reasons to root for them. Maybe I was expecting more of a farce, and instead I got something a little more depressing.
I wouldn't not read another book by Jade Chang, but this one wasn't for me.
Other reviews:
"This is not just a rags to riches to rags story of an Asian-American immigrant trying to come to terms with his fate. This is not as some say, basic rich problems. There's more in this book." — BongBongBooks
"There are parts of this novel that are heartbreaking and parts that are humorous. In the end, this is just a regular family who is dealing with loss, the future, uncertainty and dreams that may or may not become attainable." — readingsara
"The characters were insane and not always likable, but (and this is a big but) I thought one of the book's messages was the importance of family. Even though this family had lost every material thing in their lives, they still had each other… for better or worse." — Booking Mama