2019: #20 – Bad Move (Linwood Barclay)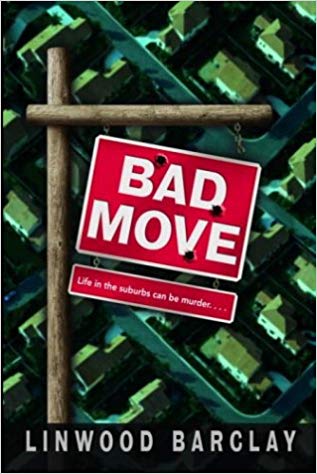 Bad Move
by
Linwood Barclay
Series:
Zack Walker #01
Published by
Bantam
on June 1, 2004
Genres:
general mystery
Pages:
320


Also by this author:
Too Close to Home
,
Trust Your Eyes
In the too-quiet town of Oakwood, only the lucky die of boredom…and new homeowner Zack Walker isn't feeling lucky. Whoever said the burbs were boring will think twice after reading Linwood Barclay's hilarious debut mystery, in which Dad learns the hard way that he doesn't always know best.

Zack wouldn't blame you for thinking he's safety-obsessed. True, he masterminded a plot to trade his family's exciting city lifestyle for one of suburban tranquillity. True, even after this strategic move, Zack still has issues with family members who forget their keys in the front door, leave their cars unlocked, or park their backpacks at the top of the stairs—where you could kill yourself tripping over them. Just ask his wife, Sarah, or his teenage kids, Paul and Angie, who endure their share of lectures.

Zack knows that he needs to chill out and assume the best for once—but we know what happens to those who assume.

When Zack realizes their two-faced developer sent a petty thief to fix their leaky shower, he starts fighting hard to ignore the fact that Oakwood isn't the crime-free paradise he was hoping for. But his brief state of denial comes to an abrupt end when, during a walk by the creek, he stumbles across a dead body. Even more shocking, Zack actually knows who the victim is—and who might want him dead.

With a killer roaming around their neighborhood and Zack's overactive imagination in overdrive, he's sure things can't get any worse. But then another local is murdered—and Zack's paranoid tendencies get him implicated in the crime. While his wife is trying to remember why she married him in the first place, and his kids are considering whether it's time to have him committed, Zack decides there's only one thing he can do. To protect his family—and avoid being busted for a crime he didn't commit—he's going to have to override his safety-first instincts, tap into his delusions of machismo, and track down the killer himself.
I had a really hard time with this one. Basically, Zack Walker is a jerk. He's one of those guys who doesn't know when to stop, and his favorite thing to do is to try to teach his family a "lesson" when they are doing something he doesn't approve of (like leaving their backpack on the stairs, or their keys in the door). And when the constant lecturing falls on deaf ears, he sets up elaborate worst-case scenarios in order to bring them over to his side. Basically, this guy is my worst nightmare, and if he were my husband, he wouldn't be my husband for long.
So, I spent a good part of this book thinking "Do I really want to keep going with this?" There was a real snowball effect of bad decisions on Zack's part, which is also a thing that makes me feel uncomfortable. I was on the verge of giving it up when I went and read some reviews to see if it was worth continuing. What I found were a number of readers who also hated Zack, but said that the story pays off in the end. So I kept going.
EVENTUALLY, the story becomes less about Zack trying to teach everyone a lesson and more of a fun-ish caper as one lesson that he tries to teach his wife goes terribly wrong. The second half of the book was much better than the first, but I'm definitely on the fence about whether or not I'll continue with the series. Honestly, I'm thankful I've read other Linwood Barclay books, because if this had been my first, it would have also been my last.
Other reviews:
"My only regret after reading Bad Move was that I had never heard of the author until he was recommended to me a couple of weeks ago. He's a top-selling novelist in Canada and the United Kingdom and the author of several more books following Zack Walker, in addition to stand alone thrillers. I guess I've got a lot of catching-up to do." — Marilyn's Mystery Reads