2017: #17 – Kane and Abel (Jeffrey Archer)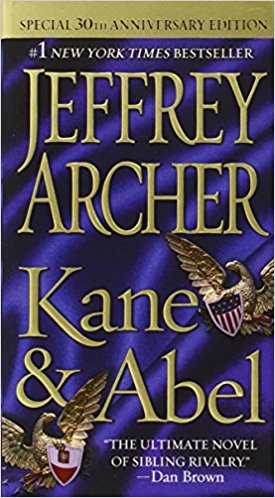 Kane and Abel
by
Jeffrey Archer
Series:
Kane & Abel #01
Published by
St. Martin's Paperbacks
on 1979
Genres:
hf - multi-period saga
,
historical fiction
Pages:
643


William Lowell Kane and Abel Rosnovski, one the son of a Boston millionaire, the other a penniless Polish immigrant. Two men, born on the same day, on opposite sides of the world, their paths destined to cross in their ruthless struggle to build a fortune.

An unputdownable story, spanning sixty years, of two powerful men linked by an all-consuming hatred, brought together by fate to save—and finally destroy—each other.
This is the type of epic story that I don't think really gets written anymore. At the beginning, we meet both William Kane and Abel Rosnovski on the days of their birth. On the surface, they could not be more opposite. Kane is born into the best of Boston high society, the only son of a wealthy banking family. Abel is found by the side of a river by a peasant family in a Poland that's on the edge of war.
The rest of the book follows both of these men through their entire lives as they strive for greatness. Their paths are very different, but they intertwine in unusual ways. You get to know both of them intimately, and can see where they are strongest and where they are blind. You may root for one, and then turn around and root for the other.
Archer takes you by the hand and pulls you through their story without ever bogging you down in the details. It is a long book, but it doesn't feel that way. There is a reason why he is still selling books after 40+ years.
Other reviews:
"This books main success is that even though the two characters come from completely different backgrounds, they are essentially the same at heart and at no point in the book do you feel either of the characters have become a better person than the other." — the book addict blog
"This book is simply amazing and exciting to read with twist after twist after twist." — Diary of a Bookfiend
"Archer weaves an intricate and entertaining tale of revenge and hatred as he chronicles the seemingly unrelated lives of the two protagonists, leading to a bittersweet ending that concludes the tale perfectly." — The Literary Edit