2017: #8 – Give Peas a Chance (Kate Samela, MS, RD, CSP)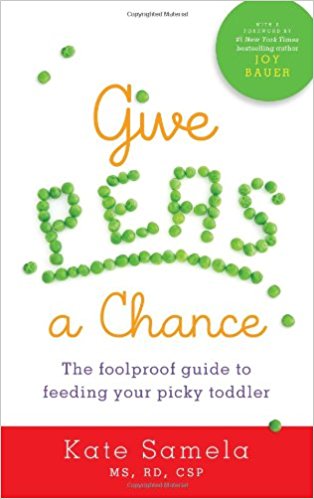 Give Peas a Chance: The Foolproof Guide to Feeding Your Picky Toddler
by
Kate Samela
Published by
Sourcebooks
on January 1st 2013
Genres:
non-fiction
,
parenting
Pages:
297


Toddlers' ideas about acceptable nutrition rarely align with the dietary desires of their parents. This book is a godsend for every parent who has begged for one bite, who finds mealtime a battle of the wills, who has wondered if the handful of Cheerios constituted adequate nutrition, or who finds the "sneaky chef" technique onerous or ineffective. Give Peas a Chance includes clear, practical, clinically tested techniques from a registered dietitian that not only ensures that your child is getting adequate nutrition, but also promotes a healthy relationship with food and expands the repertoire of the pickiest of eaters. (Some recipes included).
If you are a parent, I'm sure some version of the words "why won't my child eat???" have escaped your lips on at least one occasion. In my case, it's way too often. Max, who is almost 4, is a terribly picky eater. Some examples of what he will eat: any breakfast food that resembles bread or pancakes, hot dogs, chicken nuggets, a variety of things with peanut butter and jelly on them, cereal. Examples of things he won't eat: pasta, even mac & cheese; any sort of raw vegetable. And other people will give you all the advice in the world, which just makes you want to scream, "It's not that easy!!" Honestly, in my experience, the struggle to expand my son's diet is second only to potty training in frustration levels. The best thing about this book is that it eased my mind.
Kate Samela is a registered dietician with a masters in clinical nutrition, certified as a specialist in pediatric nutrition. All this means that I trust what she has to say! I found the tone of the book gentle and non-judgemental. There are a ton of examples of kids who are picky eaters, and have various diagnoses, whether they're low-weight or over-weight or deficient in something particular. It's always nice to read about other families that are struggling with the same things you are. You are not alone!
The most enlightening thing I read in the book is that your child may only eat one "good" meal a day, and that's perfectly normal! Realizing that you should look at their diet over the course of a week rather than day-to-day makes it a lot easier to see the big picture. This book is chocked-full of ideas for expanding your child's diet and getting them to eat more, from encouraging activity before dinner to creating the right ambiance to what food are good substitutions or look/taste/feel-alikes for your child's favorites. She also gives good, simple explanations for things like micro- and macronutrients. What carbs should your child be eating? What proteins are best for them? What type of milk should they drink? There are so many examples of foods they should eat, including what brands and types tend to be most liked by toddlers.
Not everything in this book is going to be for everyone, but it's easy enough to skip sections you think don't apply to you. Overall, this book helped me feel a lot better about what my child is eating and how I can get him to eat more/better. I expect I'll be referencing it for years to come.
Note: I read this on my Kindle, but it might be better to have a hard copy to flip through and reference. There were a number of tables that were more difficult to parse in e-format.
Other reviews:
"All in all, if I knew a pretty mainstream family with an underweight toddler, a parent who was anxious about getting enough calories in, or a mom who was "addicted" to processed foods from Gerber and Beech-Nut, I would heartily recommend Give Peas a Chance." – Skeptical Mothering
"'Give Peas a Chance' helped gain back some confidence in parenting that I had lost with Jackson's FTT diagnosis. I keep it on my kitchen counter and grab it when I'm stumped on snack or meal ideas."– baby gators den
"So, if you have a picky toddler, it's a great resource to keep on your shelf and refer to when you need to pull out some new ideas." – Super Healthy Kids