2021: #29 – A Princess in Theory (Alyssa Cole)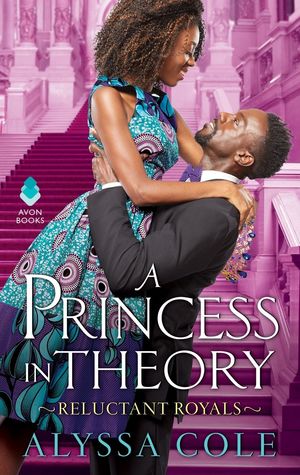 A Princess in Theory
by
Alyssa Cole
Series:
Reluctant Royals #01
Published by
Avon
on February 27, 2018
Genres:
romance
,
contemporary romance
Pages:
360


Also by this author:
A Duke by Default
,
A Prince on Paper
Also in this series:
A Duke by Default
,
A Prince on Paper
Between grad school and multiple jobs, Naledi Smith doesn't have time for fairy tales…or patience for the constant e-mails claiming she's betrothed to an African prince. Sure. Right. Delete! As a former foster kid, she's learned that the only things she can depend on are herself and the scientific method, and a silly e-mail won't convince her otherwise.

Prince Thabiso is the sole heir to the throne of Thesolo, shouldering the hopes of his parents and his people. At the top of their list? His marriage. Ever dutiful, he tracks down his missing betrothed. When Naledi mistakes the prince for a pauper, Thabiso can't resist the chance to experience life—and love—without the burden of his crown.

The chemistry between them is instant and irresistible, and flirty friendship quickly evolves into passionate nights. But when the truth is revealed, can a princess in theory become a princess ever after?
This was a fun romance between Ledi, a no-nonsense graduate student who grew up in the foster system and doesn't know she's essentially African nobility, and Thabiso, prince of her home country who was betrothed to her when they were young children. When Ledi ignores multiple emails telling her she's betrothed to an African prince, blowing them off as spam, Thabiso travels to her in New York, determined to win her over and bring her home.
This was a fun read, with a lot of chemistry between the main characters and a little bit of mistaken identity thrown in. It's the first Alyssa Cole I've read, and I'll certainly read more.
Other reviews:
"Remember those African prince emails from way back in internet history? This takes that horrible scam (it was so gadawfully racist), spins it on its head and turns that prince into real life. A prince who actually does need his betrothed, too." — The Suspected Bibliophile
"A Princess in Theory has a fun and modern premise, captivating and realistic characters with all too human flaws, features an interesting and unique African country and layers it all in a sexy and unique contemporary romance." — Harlequin Junkie
"A Princess in Theory was very much the book I needed at the time that I picked it up. I was in search of a story that would be a fun escape from reality and that was guaranteed to have a happy ending, and this delivered on both counts." — Alexa Loves Books