2018: #16 – All Our Wrong Todays (Elan Mastai)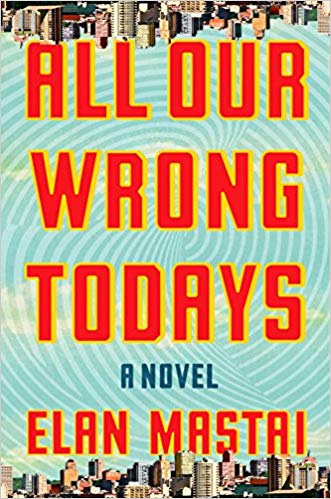 All Our Wrong Todays
by
Elan Mastai
Published by
Dutton Books
on February 7, 2017
Genres:
science fiction
Pages:
373


You know the future that people in the 1950s imagined we'd have? Well, it happened. In Tom Barren's 2016, humanity thrives in a techno-utopian paradise of flying cars, moving sidewalks, and moon bases, where avocados never go bad and punk rock never existed . . . because it wasn't necessary.

Except Tom just can't seem to find his place in this dazzling, idealistic world, and that's before his life gets turned upside down. Utterly blindsided by an accident of fate, Tom makes a rash decision that drastically changes not only his own life but the very fabric of the universe itself. In a time-travel mishap, Tom finds himself stranded in our 2016, what we think of as the real world. For Tom, our normal reality seems like a dystopian wasteland.

But when he discovers wonderfully unexpected versions of his family, his career, and—maybe, just maybe—his soul mate, Tom has a decision to make. Does he fix the flow of history, bringing his utopian universe back into existence, or does he try to forge a new life in our messy, unpredictable reality? Tom's search for the answer takes him across countries, continents, and timelines in a quest to figure out, finally, who he really is and what his future—our future—is supposed to be.
This is a crazy roller coaster of a story. First, Tom isn't a particularly likable character, especially in the beginning of the book. I guess he fits the stereotype of a directionless millennial, unable to settle himself into a career or find a girlfriend that can stand him for long. Though even that characterization is a bit confusing, because despite being terrible at everything he does, he's able to perform well enough to be the backup to an extremely talented future chrononaut (time traveler). Penelope's accomplishments and her abilities are very spelled out as being superior to most people's, yet he can meet her abilities? That's just the first confusing aspect of this story.
Once the time travel actually happens, all bets are off and there's really no way to predict where the story is going next. I could mostly follow, but I confess to skimming when descriptions got a bit too sciencey (this is why I don't read a lot of science fiction). Despite that, there were enough twists and turns to this story to keep me interested and turning the pages, even if it went almost completely off the rails at the end, where it also got a bit too introspective for my tastes.
Would I pick up another book by this author? Maybe — it would depend on the premise.
Other reviews:
"Overall, I really enjoyed All Our Wrong Todays. I thought it was creative and original and fun. I am glad I finally got around to reading it, because it is easily one of the best science fiction novels I've read in a while. If you loved The Martian, you are going to like this." – Adventures of a Bibliophile
"Anyone with a science background or a love of science would enjoy this, and I imagine a group of time travel fans having an endless discussion about the possibility of time travel after reading this novel." – Bookalicious Babe Book Reviews
"I highly, highly, highly, and I mean HIGHLY recommend this book. It was well though-out, thought provoking, funny, witty, writing style was flawless and I tell you, reading it will give you a different sense of adventure." – Nerdy Talks Book Blog