2018: #27 – Too Close to Home (Linwood Barclay)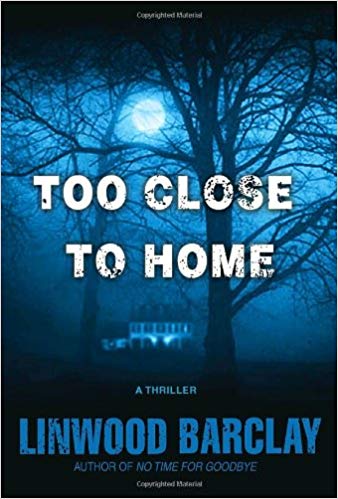 Too Close to Home
by
Linwood Barclay
Published by
Bantam
on October 22, 2008
Genres:
suspense thriller
Pages:
404


Also by this author:
Bad Move
,
Trust Your Eyes
Linwood Barclay, critically acclaimed author of No Time for Goodbye, brings terror closer than ever before in a thriller where murder strikes in the place we feel safest of all. Promise Falls isn't the kind of community where a family is shot to death in their own home. But that is exactly what happened to the Langleys one sweltering summer night, and no one in this small upstate New York town is more shocked than their next-door neighbors, Jim and Ellen Cutter. They visited for the occasional barbecue, and their son, Derek, was friends with the Langleys' boy, Adam; but how well did they really know their neighbors? That's the question Jim Cutter is asking, and the answers he's getting aren't reassuring. Albert Langley was a successful, well-respected criminal lawyer, but was he so good at getting criminals off that he was the victim of revenge? A debt his innocent family also paid in blood? From the town's criminally corrupt mayor to the tragic suicide of a talented student a decade before, Promise Falls has more than its share of secrets. And Jim Cutter, failed artist turned landscaper, need look no further than his own home and his wife Ellen's past to know that things aren't always what they seem. Suddenly the Cutters must face the unthinkable: that a murderer isn't just stalking too close to home but is inside it already. For the Langleys weren't the first to die and they won't be the last.
This was a solid thriller that I zipped through over Thanksgiving break. The crime (and how it was witnessed) was chilling, and Barclay keeps the suspense going with a lot of twists and turns. You can try to put the puzzle pieces together yourself, but don't be surprised if you're wrong! Yet it still all makes sense. I thought the portrayal of small town and academic politics was decently accurate, though the mayor is a bit over-the-top. Jim is a likable protagonist, though quite stubborn. Barclay is an author I enjoy and intend to keep reading!
Other reviews:
"Overall, would I recommend this book? …I would and I wouldn't. I would because it is a quick read, which does become more gripping and thrilling as it goes along. However, I wouldn't recommend the book due to the facts that the structure is basic and a large portion of the plot was irrelevant to the outcome." — Between the Lines Book Reviews
"So, what can I say? If you like crime novels, this is one of the best. If you like crime novels with good characters, a great plot, a hell of a lot of exciting, edge-of-the-seat action and some quieter thought-provoking moments too, then absolutely don't miss this." — Vulpes Libris
"The book is not terrible. But, as is the way of things, if something grabs my heart in some way I forgive its flaws and when something doesn't grab me I do admit to becoming overly picky. For tangible and intangible reasons this book just didn't grab me and so I've undoubtedly gotten hot under the collar about things that don't really matter." — Reactions to Reading