2019: #1 – All the Light We Cannot See (Anthony Doerr)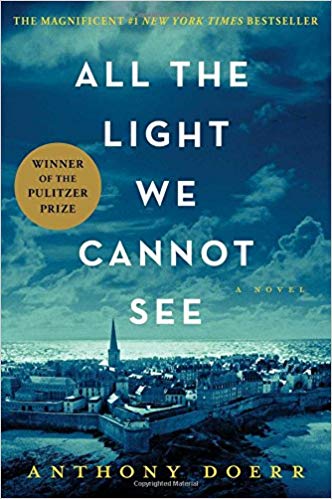 All the Light We Cannot See
by
Anthony Doerr
Published by
Scribner
on May 6, 2014
Genres:
hf - World War II
,
historical fiction
Pages:
531


From the highly acclaimed, multiple award-winning Anthony Doerr, the beautiful, stunningly ambitious instant New York Times bestseller about a blind French girl and a German boy whose paths collide in occupied France as both try to survive the devastation of World War II.

Marie-Laure lives with her father in Paris near the Museum of Natural History, where he works as the master of its thousands of locks. When she is six, Marie-Laure goes blind and her father builds a perfect miniature of their neighborhood so she can memorize it by touch and navigate her way home. When she is twelve, the Nazis occupy Paris and father and daughter flee to the walled citadel of Saint-Malo, where Marie-Laure's reclusive great-uncle lives in a tall house by the sea. With them they carry what might be the museum's most valuable and dangerous jewel.

In a mining town in Germany, the orphan Werner grows up with his younger sister, enchanted by a crude radio they find. Werner becomes an expert at building and fixing these crucial new instruments, a talent that wins him a place at a brutal academy for Hitler Youth, then a special assignment to track the resistance. More and more aware of the human cost of his intelligence, Werner travels through the heart of the war and, finally, into Saint-Malo, where his story and Marie-Laure's converge.
I enjoyed this book, though I found it very slow. What I particularly liked was that it explored World War II from a couple of perspectives that I haven't read before, despite having read a *lot* of World War II novels.
The first main perspective is that of Marie-Laure, a young French girl who goes blind before the war and then must flee Paris with her father when she is 12. They land in Saint-Malo, a walled city near the sea, with her father's agoraphobic uncle and his housekeeper, where they are eventually under siege by the Germans anyway. Being blind in a strange place during wartime must have been terrifying, and I think the book portrayed that well.
The other main perspective is that of Werner Pfennig, a young boy living in an orphanage in a German mining town with his younger sister, who soon finds that his talent with radios will save him from the danger of working in the mines but send him straight into the danger of war.
It is obvious early on that these two characters are going to cross paths, but it wasn't in the way that I expected. Nor did the characters have endings that I expected. Thankfully, the story does take us through to the end of their lives so we aren't left wondering.
The one part I didn't really enjoy was the perspective of the German officer who is hunting for "treasures" for Hitler. His perspective was distasteful, almost in a cartoonish way — here's the big bad nasty Nazi! I honestly could have done without many of his parts. I also had problems with the time/place jumping, and sometimes had to look back to remind myself of where I was in time and space.
I did think this was a very good read, but not my favorite of the past year. But if you like World War II fiction, this should absolutely be on your list.
Other reviews:
"5 stars for now because I will never forget this story." – Star-Crossed Book Blog
"Combine elegant prose, a riveting tale that alternates between story time, and storyline, a provocative topic, war — unfortunately, always a provocative topic — and the predilection of the human spirit to survive even after losing all that is good in life, and you'll have All the Light We Cannot See, by Anthony Doerr, a book so exquisite that you may just weep with the joy of its telling." – bookscover2cover
"Overall, All the Light We Cannot see is a great suspense novel and a good look at the moral quandaries of war.  It is a book not to be missed." – Laura's Reviews