2006: #35 – Seeing a Large Cat (Elizabeth Peters)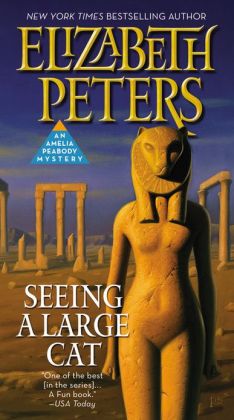 Seeing a Large Cat
by
Elizabeth Peters
Series:
Amelia Peabody #09
Published by
Grand Central Publishing
on July 30, 2013
Genres:
hf - Pre-WWI
,
historical fiction
,
historical mystery
Pages:
512


Also by this author:
The Mummy Case
,
The Curse of the Pharaohs
Also in this series:
The Mummy Case
,
The Curse of the Pharaohs
"Stay away from tomb Twenty-A!" says an ominous message delivered by an unseen hand. The year is 1903, the place is Cairo, and with the new century, everything is changing for Amelia Peabody – except her affinity for danger. Headed for an archaeological dig in the awesome Valley of the Kings, she hopes the desert will yield up its secrets. Instead it will produce a macabre puzzle of murder, passion, and cruel deceit. Besides the warning about the tomb – which only makes it more intriguing to Amelia and her sexy if irascible husband, Emerson – Amelia finds Egypt spinning with demands that join like the threads of her destiny. A request for help comes from an old friend whose husband has fallen for a spiritualist…a plea arrives from an expatriate Civil War colonel with a pretty daughter threatened by an unknown enemy…and a special headache is bestowed by her son Ramses, grown from a precocious child to a teenager, who strikes out with his cousin David and Amelia's beautiful ward Nefret toward an adventure that could turn a mother's hair white… Even though her famous premonitions are telling her that trouble lies ahead, Amelia dreams of a large cat, an Egyptian sign of good luck. And when tomb Twenty-A finally reveals its secret, Amelia will need all the luck she can garner, and her detective skills, to keep those dearest to her from death…or an equally undesirable fate.
Book #35 was Seeing a Large Cat, the 9th book in Elizabeth Peters' Amelia Peabody series.
Book count: 35
Pages in book: 432
Page count: 14,141
Words in book: 128,028
Word count: 4,015,474
1,000,000 words surpassed — 2/2/06
2,000,000 words surpassed — 2/14/06
10,000 pages surpassed — 3/10/06
3,000,000 words surpassed — 3/16/06
4,000,000 words surpassed — 4/3/06