2019: #14 – Ruin & Rising (Leigh Bardugo)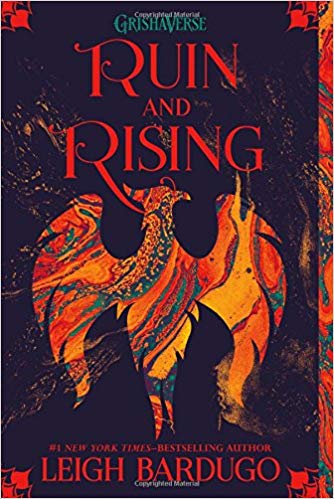 Ruin and Rising
by
Leigh Bardugo
Series:
Shadow and Bone #03
Published by
Henry Holt
on June 17, 2017
Genres:
y/a fantasy
Pages:
420


Also by this author:
Shadow and Bone
,
Siege and Storm
,
Ninth House
,
Six of Crows
Also in this series:
Shadow and Bone
,
Siege and Storm
The capital has fallen.

The Darkling rules Ravka from his shadow throne.

Now the nation's fate rests with a broken Sun Summoner, a disgraced tracker, and the shattered remnants of a once-great magical army.

Deep in an ancient network of tunnels and caverns, a weakened Alina must submit to the dubious protection of the Apparat and the zealots who worship her as a Saint. Yet her plans lie elsewhere, with the hunt for the elusive firebird and the hope that an outlaw prince still survives.

Alina will have to forge new alliances and put aside old rivalries as she and Mal race to find the last of Morozova's amplifiers. But as she begins to unravel the Darkling's secrets, she reveals a past that will forever alter her understanding of the bond they share and the power she wields. The firebird is the one thing that stands between Ravka and destruction—and claiming it could cost Alina the very future she's fighting for.
As this final book opens, the stakes in the fight between Light and Dark are higher than ever. The Darkling has taken over, and Alina, Mal, and Nikolai are on the run. Hiding deep underground under the protection of the Apparat and his followers, Alina knows she must heal and get stronger before she can take on the Darkling again, except there is one big problem. Her powers have been greatly diminished, and getting back to the surface and exposing herself once again seems to be the only solution.
There is a lot that happens in this book, but I thought everything wrapped up in a satisfying way. This was a much stronger trilogy than I expected it to be, and I would definitely read something by Bardugo in the future.
Other reviews:
"While I thought this book didn't quite feel as huge as I thought it should – though I loved the idea of the religious following growing around 'Sankta Alina' and the various towns and villages the main characters visited, it didn't quite feel like the fate of Ravka was at stake, just the fate of Alina and those closest to her – for me this was a huge improvement on the first two books." — Jessticulates
"So overall, I rather enjoyed this series. It definitely has its merits and it's clear why people love it. But I certainly wish we had a better romantic plotline and that Bardugo did a better job of integrating Russian culture into her world." – The Review Marina
"Overall, I really did enjoy this book. I thought it was a good end to the series. Bardugo's writing and imagination is amazing and her characters are twisted and tormented and complex and lovable and wonderful. I'm sad to see this series end, but look forward to reading more from her in the future." — Stephanie's Book Reviews