2019: #15 – Vox (Christina Dalcher)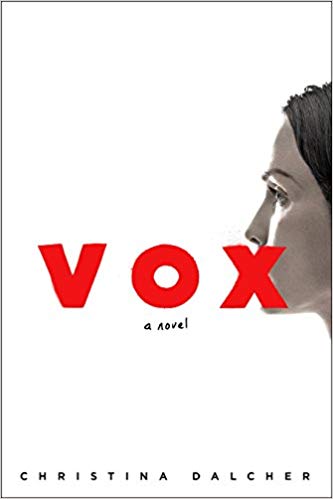 Vox
by
Christina Dalcher
Published by
Berkley
on August 21, 2018
Genres:
post-apocalyptic/dystopian scifi
Pages:
336


Set in an America where half the population has been silenced, VOX is the harrowing, unforgettable story of what one woman will do to protect herself and her daughter.

On the day the government decrees that women are no longer allowed to speak more than 100 words daily, Dr. Jean McClellan is in denial—this can't happen here. Not in America. Not to her.

This is just the beginning.

Soon women can no longer hold jobs. Girls are no longer taught to read or write. Females no longer have a voice. Before, the average person spoke sixteen thousand words a day, but now women only have one hundred to make themselves heard.

But this is not the end.

For herself, her daughter, and every woman silenced, Jean will reclaim her voice.
I had mixed feelings about this book. It's certainly a horrifying scenario — after the election of a very conservative president, the rights of all women have slowly been eroded away. As the story opens, they are not allowed to work, not allowed to read, and not allowed to speak more than 100 words a day. Even children are subject to these rules, with schools segregated by not only gender but by what they are allowed to learn.
Unless you have something they want, which is the situation Jean finds herself in. Jean, an accomplished doctor and researcher in how the brain processes speech, would love to fight back. Except her husband works for the president and she's afraid of the repercussions for her young daughter. Then the president's right-hand man comes to her with an offer — come work for us, and you will again be able to speak.
There's a lot going on here — oppression, resistance, infidelity, hope, terror — with little glimpses of how they ended up in that situation peppered in along the way. But while I found the scenario very scary, I didn't find it to be very believable. Mostly because I don't believe, in a million years, that the wives of those (presumably Southern and Christian) bible-thumping men who made the laws would ever go along with it. Those proper Southern ladies may look "obedient" in public, but we all know who rules the roost at home. And I also thought the pacing of the story was off. Things move along quite slowly until bam! Everything happens at once. I would have rather had some of the middle compressed in favor of elaborating on what happens in the end.
All-in-all, this wasn't a bad book, just could have been better. If you liked The Handmaid's Tale, you will likely appreciate Vox as the dystopian nightmare it tries to be.
Other reviews:
"I was captured from the first page, where every aspect of Jean's life and that of her family has been greatly affected by the speech limitations." — Literary Quicksand
"Vox sure made a huge impact on me. It gave me reflections and strong thoughts of "what ifs". A dark, science fiction dystopia that will provoke you, make you angry and it will make a dent in you to question everything." — Bookish Wisps
"In summary it's a book that touches on alternative futures – and also reminds us how far equality has come, and why it's so important to make a stand to keep it." — The Book Fairies