2019: #12 – Shadow & Bone (Leigh Bardugo)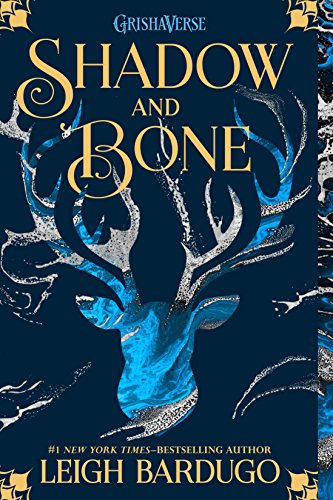 Shadow and Bone
by
Leigh Bardugo
Series:
Shadow and Bone #01
Published by
Henry Holt
on June 5, 2017
Genres:
y/a fantasy
Pages:
358


Also by this author:
Siege and Storm
,
Ruin and Rising
,
Ninth House
,
Six of Crows
Also in this series:
Siege and Storm
,
Ruin and Rising
Surrounded by enemies, the once-great nation of Ravka has been torn in two by the Shadow Fold, a swath of near impenetrable darkness crawling with monsters who feast on human flesh. Now its fate may rest on the shoulders of one lonely refugee.

Alina Starkov has never been good at anything. But when her regiment is attacked on the Fold and her best friend is brutally injured, Alina reveals a dormant power that saves his life—a power that could be the key to setting her war-ravaged country free. Wrenched from everything she knows, Alina is whisked away to the royal court to be trained as a member of the Grisha, the magical elite led by the mysterious Darkling.

Yet nothing in this lavish world is what it seems. With darkness looming and an entire kingdom depending on her untamed power, Alina will have to confront the secrets of the Grisha . . . and the secrets of her heart.
I had low expectations for this series, but ended up being pleasantly surprised! Alina is a mapmaker for the King's army, and her childhood best friend Mal is a scout with unusual abilities. They grew up together in an orphanage, where they were both evaluated for powers by the Grisha when they were young. Since (it appeared) neither had Grisha abilities (such as the ability to control the wind, or fire, or heal/hurt people's bodies), the King's army was the most logical place for them to end up.
When the story begins, the army is preparing to go through the Unsea, a dark place caused by the mistake of a powerful Grisha of the past that is infested with terrible creatures that kill nearly everyone they encounter. When Mal's life is threatened on the trip, Alina discovers a power that no one, including her, knew she had. Alina is suddenly a very popular girl.
The rest of the story follows Alina as she is taken into the Grisha population and learns how to use her powers. There's a lot of political intrigue, and she also must navigate getting to know the Darkling, the powerful leader of the Grisha who is particularly interested in what she can do.
The story has Russian influences, but isn't a straight retelling of any particular piece of Russian folklore. I found it very engaging, and jumped right into the second book of the series — something I haven't done in a long time.
Other reviews:
"I did like the characters, just didn't love them. They could be better. Maybe in the second book." — A City of Books Blog
"Beyond the characters, from a pure story perspective, I found myself easily entertained and immersed in Shadow and Bone. The idea of these different magical people – Grisha – and the divisions they cause in court, and how they are treated across different neighboring countries is well done (if familiar). " — The Book Smugglers
"In the end, I have to give Shadow and Bone 3/5 stars, due to pacing issues. I've heard that Bardugo's writing improves as her books go along, so I'm hoping that the further I dive into the Grishaverse, the more I'll like it." — Starlight-Reads