2019: #2 – The Little Sleep (Paul Tremblay)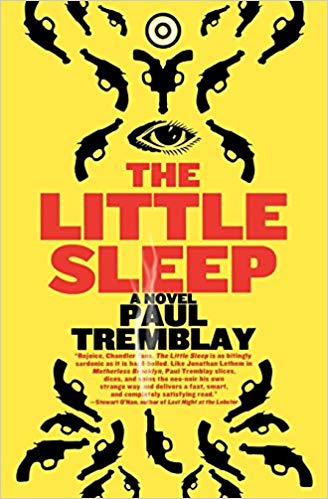 The Little Sleep
by
Paul Tremblay
Series:
Mark Genevich #01
Published by
Holt McDougal
on March 3, 2009
Genres:
mystery
,
noir/hard-boiled
Pages:
271


Raymond Chandler meets Jonathan Lethem in this wickedly entertaining debut featuring Mark Genevich, Narcoleptic Detective

Mark Genevich is a South Boston P.I. with a little problem: he's narcoleptic, and he suffers from the most severe symptoms, including hypnogogic hallucinations. These waking dreams wreak havoc for a guy who depends on real-life clues to make his living.

Clients haven't exactly been beating down the door when Mark meets Jennifer Times - daughter of the powerful local D.A. and a contestant on American Star -who walks into his office with an outlandish story about a man who stole her fingers. He awakes from his latest hallucination alone, but on his desk is a manila envelope containing risque photos of Jennifer. Are the pictures real, and if so, is Mark hunting a blackmailer, or worse?

Wildly imaginative and with a pitch-perfect voice, The Little Sleep is the first in a new series that casts a fresh eye on the rigors of detective work, and introduces a character who has a lot to prove - if only he can stay awake long enough to do it.
You figure out very quickly upon starting this book that what we have here is an unreliable narrator. So if you like unreliable narrators, continue on. In this book, you really can't trust what you're reading.
Mark Genevich has narcolepsy, and he has it bad. He hallucinates, he's prone to falling asleep unexpectedly, and occasionally, he's even paralyzed but alert. Yet somehow he's able to be a private detective, or at least attempts to be. His current problem is that a young woman who was a contestant on a national singing competition and the daughter of a Boston D.A. has come to him for his help, but he can't remember why. While figuring out what she wants (or maybe doesn't want?), he gets himself tangled into a much larger problem with implications in his personal life.
This book definitely kept me reading, and I tore through it in 4 days, which is a pace I don't really read at nowadays. I intend to read more of Tremblay's books, and have heard really good things about his latest ones.
Other reviews:
"The Little Sleep is an interesting read and is infused with fantastical sensibilities while still remaining faithful to the tropes of the crime and mystery genre. Even if you're not the type who reads such stories, this is still a welcome treat as Tremblay's prose is accessible and compelling." — Bibliophile Stalker
"There's a devil-may-care joy and affecting vulnerability to even the bleakest of Tremblay's scenarios, in which his bearded and scarred narrator confronts old familial demons and the limits of his own physical abilities even as he untangles a web of Bostonian deception, where the politics is personal and vice versa." — popMatters